Description - Memorial Object
Memorial sculpture with the Virgin and Child and the devotional portrait of a canon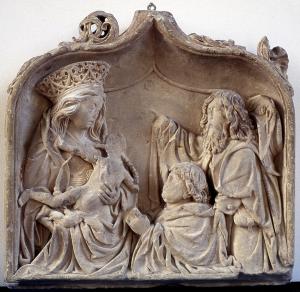 MeMO memorial object ID and name
MeMO memorial object ID
493
Name
Memorial sculpture with the Virgin and Child and the devotional portrait of a canon
Holding institution(s)
Holding institution(s)
Category
Type
Memorial item (physical object)
Classification
Single piece (sculpture)
Short description
Memorial sculpture with the Virgin and Child and a devotional portrait of a canon and St James the Greater
Remarks about category
Single piece: no separation between portrait(s) - main image
General date
General date
1500-1550
Artist(s)
Artist(s)

Utrecht Stone Female Head, Master of the

Original institution(s)
Still in original institution?
no

Location inside the institution
In situ?
(Probable) original location
Argumentation
according to tradition
Related memorial objects in the same institution
Additional remarks (original location)

Additional remarks

Memorial piece
Function
Specification
Additional remarks
No information is available about possible other functions: a text tablet may be missing
Memorial monument or floor slab
Function
Grave findings
Additional remarks

Original function
Change in function
Remarks about function
Name
Specification

Members of the commemorated party
Commemorated person(s)

[730] unknown canon (male)

Commemorated institution(s)

Relation between commemorated persons
not applicable (only one person mentioned/depicted)
Relation specification
Additional remarks
Name
Composition of the commissioning party
Specification

Members of the commissioning party
Commissioning person(s)
Commissioning Institution(s)

Relation between commissioning party and commemorated party
Relation specification
Additional remarks
Material(s)
Specification
Avender stone; paint
Traces of polychromy?
largely gone
Reuse of older objects

Dimensions (cm)
Height x width x depth
62 x 64 x 11

Completeness
The religious image may originally have been accompanied by a memorial text: see Filiation (Part).
Condition
Reasonable. The head of the Christ Child is missing, as well as the right hand of St James the Greater, the fingers of the canon and the noses of all of the figures. The frame is damaged.
Conservation
Technical research
Specification (technical research)

Alterations
Alterations
Specification

Additional remarks
Provenance
Provenance
See literature: catalogue Centraal Museum, Utrecht (Utrecht 1997)
Marks of ownership
Type(s) of mark(s) of ownership
Specification

Bueren, T. van, Leven na de dood: gedenken in de late Middeleeuwen (Turnhout 1999), 99-100, 232-235
Falkenburg, Reindert, Beelden in de late Middeleeuwen en Renaissance: Late Gothic and Renaissance sculpture in The Netherlands (Zwolle 1994), 314-315; Fig. 18
Klinckaert, J., Beeldhouwkunst tot 1850. De verzamelingen van het Centraal Museum Utrecht 3 (Utrecht 1997), 296-297
Schooten, K. van; Leeflang, M., Middeleeuwse beelden uit Utrecht 1430-1530 (Utrecht/Antwerpen 2012), 321; no. 75
Vlierden, M. van, Utrecht, een hemel op aarde (Zutphen 1988), 78

Other documentation
Additional remarks
Additional remarks
A rosary is hanging from the neck of the Christ Child
Single piece (front) of [493] Memorial sculpture with the Virgin and Child and the devotional portrait of a canon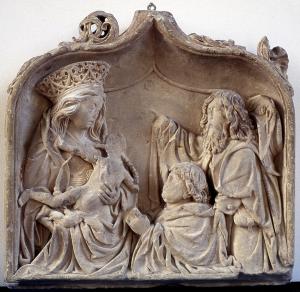 Indication of part
Indication of part
Single piece (front)
Short description
Short description
Memorial sculpture with the Virgin and Child and a devotional portrait of a canon and St James the Greater
Dimensions (cm)
Height x Width x Depth
62 x 64 x 11
Date
Year
ca.1520-1530
Specified date
Argumentation

based on stylistic research

Specification
date based on stylistic analysis
Additional remarks
Holding institution
Holding institution
Utrecht, Centraal Museum
Collection
Collection identifier
1800
Online description link
Alternative or previous collections
Alternative of previous identifiers
Accessibility
Remarks about holding institution
Contract
Contract
Artist(s)

Identity
Name
Utrecht Stone Female Head, Master of the
Attribution
Specification
attribution(s) on stylistic grounds
Assignment
Role
Specification

Additional remarks
Filiation
Filiation
This sculpture is part of a group of Utrecht memorial sculptures with half figures, some of which are still accompanied by a memorial text. They are all from chapter churches, see MeMO Memorial Objects: Our Lady's Church (Mariakerk) ID 492; ID 494; ID 593; St Peter's Church (Pieterskerk) ID 544; an unknown chapter church ID 491, ID 593. A similar sculpture is known from a drawing by Pieter Saenredam of a chapel in St John's Church, see Van Bueren (1999) 233-235.
Additional remarks
Additional remarks
Portraits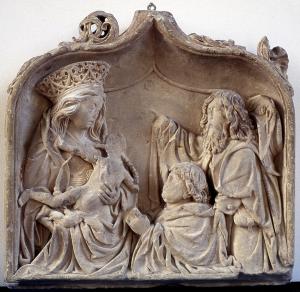 Indication of part
Indication of part
Single piece (front)
Place of the portrait
Place of the portrait
in the centre (foreground)
Portrait of
Name
unknown canon
Sex
male
Argumentation
Specification
Portrait — portraiture
Physical state of the portrayed person
alive
Argumentation
Specification
Posture
in half-figure
Manner of portrayal
folded hands
Portrait — clothing, attributes and insignia

Clothing
Type of clothing
clothes of an ecclesiastical office holder
Short description
alb or surplice
Attributes
Attributes

(ecclesiastical) vestments

Specification
almuce covering the back of the portrayed person
Insignia
Insignia
Specification
Remarks about clothing

Additional remarks
The portrayed person was a canon. He may have been attached to the Mariakerk (St Mary's Church) in Utrecht.
Saint Portraits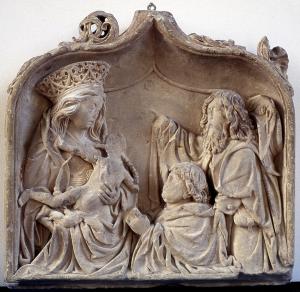 Indication of the part
Indication of the part
Single piece (front)
Place of the portrait
Place of the portrait
First saint from the right
Specification of saint
Name
James the Greater
Sex
male
Type of saint
Specification
Attributes

trappings: clothing/attributes of pilgrims/travellers

Specification
pilgrim's satchel; pilgrim's hat displaying a scallop shell and crossed pilgrim's staves
Gesture

hand on the shoulder or back of a commemorated person

Specification
left hand on the back of the commemorated person
Posture
in half-figure
Specification
Additional remarks
Additional remarks
The saint may originally have held a staff in his right hand. The presence of this saint may be an indication that the commemorated person was attached to a confraternity which was dedicated to St James the Greater. It is also possible that the canon went on a pilgrimage to Santiago de Compostela.
Person Description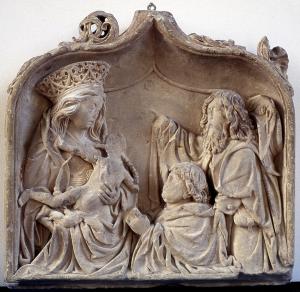 Personal identification number
Personal identification number
730
Personal details
Name
unknown canon
Sex
male
Year/date of birth
Year/date of death
Additional remarks
Social standing
Status
secular clergy
Arguments

clothing of the portrayed person

Specification
Member of a convent
Religious order
Specification
Member of secular clergy
Type of secular clergy
canon
Specification
canon who was possibly attached to the Mariakerk (St Mary's Church) in Utrecht
Additional remarks
Additional remarks