Description - Memorial Object
Devotional portrait of a canon (fragment)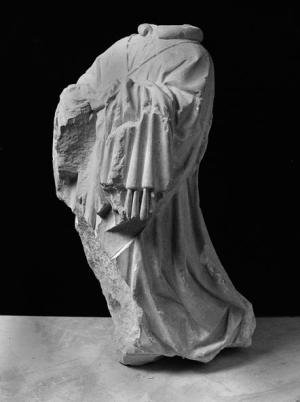 MeMO memorial object ID and name
MeMO memorial object ID
495
Name
Devotional portrait of a canon (fragment)
Holding institution(s)
Holding institution(s)
Category
Type
Memorial item (physical object)
Classification
Single piece (sculpture)
Short description
Fragment of a sculpture showing a devotional portrait of a canon
Remarks about category
General date
General date
1450-1500
Artist(s)
Artist(s)

Utrecht area, artist from the

Original institution(s)
Still in original institution?
no

Location inside the institution
In situ?
(Probable) original location

in the church/chapel (exact location unknown)

Argumentation
Related memorial objects in the same institution
Additional remarks (original location)

Additional remarks

Memorial piece
Function
Specification
Additional remarks
Memorial monument or floor slab
Function
Grave findings
Additional remarks

Original function
unknown, the sculpture is a fragment, see Additional remarks
Change in function
Remarks about function
Name
Specification

Members of the commemorated party
Commemorated person(s)

[732] unknown canon (male)

Commemorated institution(s)

Relation between commemorated persons
Relation specification
Additional remarks
No information is available about the original function of the sculpture; only a fraction remains. One or more persons may have been depicted in the original sculpture.
Name
Composition of the commissioning party
Specification

Members of the commissioning party
Commissioning person(s)
Commissioning Institution(s)

Relation between commissioning party and commemorated party
Relation specification
Additional remarks
Material(s)
Specification
Traces of polychromy?
Reuse of older objects

Dimensions (cm)
Height x width x depth
47 x 29 x 24

Completeness
Fragment of a larger ensemble? See Additional remarks.
Condition
The head and hands of the figure are missing
Conservation
Technical research
Specification (technical research)

Alterations
Alterations
Specification

Additional remarks
Provenance
Provenance
See literature: catalogue Centraal Museum, Utrecht (Utrecht 1997)
Marks of ownership
Type(s) of mark(s) of ownership
Specification

Klinckaert, J., Beeldhouwkunst tot 1850. De verzamelingen van het Centraal Museum Utrecht 3 (Utrecht 1997), 252

Other documentation
Additional remarks
Additional remarks
The figure is cut off in such a way that it is likely that the figure was placed on the right-hand side of a sculpture. Klinckaert (Utrecht 1997), however, claims that it concerns a free-standing sculpture, which was originally placed on a polygonal column.
Single piece (front) of [495] Devotional portrait of a canon (fragment)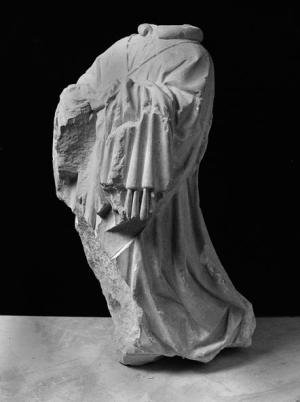 Indication of part
Indication of part
Single piece (front)
Short description
Short description
Sculpture showing a devotional portrait of a canon
Dimensions (cm)
Height x Width x Depth
47 x 29 x 24
Date
Year
ca.1460-1480
Specified date
Argumentation

based on stylistic research

Specification
date based on stylistic analysis
Additional remarks
Holding institution
Holding institution
Utrecht, Centraal Museum
Collection
Collection identifier
2621
Online description link
Alternative or previous collections
Alternative of previous identifiers
Accessibility
Remarks about holding institution
Contract
Contract
Artist(s)

Identity
Name
Utrecht area, artist from the
Attribution

based on historical evidence (in literature)

Specification
origin of work
Assignment
Role
Specification

Additional remarks
Filiation
Filiation
Additional remarks
Additional remarks
Portraits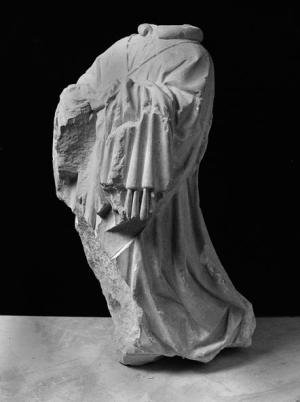 Indication of part
Indication of part
Single piece (front)
Place of the portrait
Place of the portrait
unknown (context is lost)
Portrait of
Name
unknown canon
Sex
male
Argumentation
Specification
Portrait — portraiture
Physical state of the portrayed person
alive
Argumentation
Specification
Posture
kneeling
Manner of portrayal
Portrait — clothing, attributes and insignia

Clothing
Type of clothing
clothes of an ecclesiastical office holder
Short description
alb
Attributes
Attributes

(ecclesiastical) vestments

Specification
almuce hanging over the left forearm
Insignia
Insignia
Specification
Remarks about clothing

Additional remarks
The portrayed person was a canon
Person Description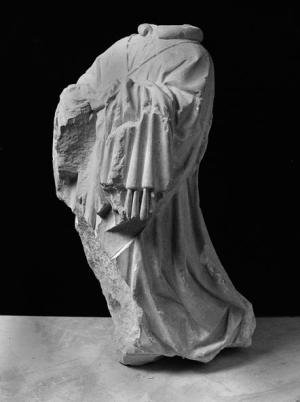 Personal identification number
Personal identification number
732
Personal details
Name
unknown canon
Sex
male
Year/date of birth
Year/date of death
Additional remarks
Social standing
Status
secular clergy
Arguments

clothing of the portrayed person

Specification
Member of a convent
Religious order
Specification
Member of secular clergy
Type of secular clergy
canon
Specification
canon who was possibly attached to the St. Salvatorkerk (St Saviour's Church) in Utrecht
Additional remarks
Additional remarks