Description - Memorial Object
Memorial sculpture with a Crucifixion (?) and the devotional portrait of an unknown person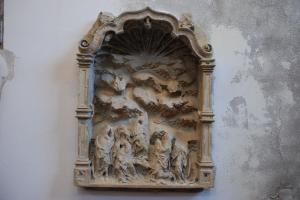 MeMO memorial object ID and name
MeMO memorial object ID
498
Name
Memorial sculpture with a Crucifixion (?) and the devotional portrait of an unknown person
Holding institution(s)
Holding institution(s)
Category
Type
Memorial item (physical object)
Classification
Single piece (sculpture)
Short description
Memorial sculpture with a Crucifixion (?) and a devotional portrait of an unknown person, two heraldic shields and an unknown saint
Remarks about category
Single piece: no separation between portrait(s) - main image
General date
General date
1450-1550
Artist(s)
Artist(s)
Original institution(s)
Still in original institution?
yes

Location inside the institution
In situ?
(Probable) original location

in the church/chapel (exact location unknown)

Argumentation
Related memorial objects in the same institution
Additional remarks (original location)

Additional remarks

Memorial piece
Function
Specification
Additional remarks
No information is available about possible other functions: the object is too damaged and a text tablet may be missing
Memorial monument or floor slab
Function
Grave findings
Additional remarks

Original function
unknown
Change in function
Remarks about function
Name
Specification

Members of the commemorated party
Commemorated person(s)

[738] unknown person (unknown)

Commemorated institution(s)

Relation between commemorated persons
not applicable (only one person mentioned/depicted)
Relation specification
Additional remarks
Name
Composition of the commissioning party
Specification

Members of the commissioning party
Commissioning person(s)
Commissioning Institution(s)

Relation between commissioning party and commemorated party
Relation specification
Additional remarks
Material(s)
Specification
Baumberg sandstone; paint
Traces of polychromy?
yes
Reuse of older objects

Dimensions (cm)
Height x width x depth

Completeness
The religious image may originally have been accompanied by a memorial text
Condition
The sculpture is severely damaged
Conservation
Technical research
Specification (technical research)

Alterations
Alterations
Specification

Additional remarks
Provenance
Provenance
The sculpture has been in the church of old
Marks of ownership
Type(s) of mark(s) of ownership
Specification

Kuile, E.H. ter, De Nederlandse monumenten van geschiedenis en kunst III. De provincie Gelderland, 2e stuk: Het kwartier van Zutfen (The Hague 1958), 244-245

Other documentation
Additional remarks
Additional remarks
The two saints on the left are probably St John the Evangelist and the Virgin Mary. Mary Magdalene is most likely depicted at the foot of the Cross. On its left hand side the commemorated person is kneeling down with behind him/her a standing patron saint.
Single piece (front) of [498] Memorial sculpture with a Crucifixion (?) and the devotional portrait of an unknown person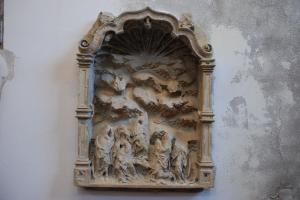 Indication of part
Indication of part
Single piece (front)
Short description
Short description
Memorial sculpture with a Crucifixion (?) and a devotional portrait of an unknown person, two heraldic shields and an unknown saint
Dimensions (cm)
Height x Width x Depth
Date
Year
ca.1450-1550
Specified date
Argumentation

based on stylistic research

Specification
date based on stylistic analysis
Additional remarks
Holding institution
Holding institution
Zutphen, Broederenkerk
Collection
Collection identifier
Online description link
Alternative or previous collections
Alternative of previous identifiers
Accessibility
Remarks about holding institution
The sculpture is located in the south aisle
Contract
Contract
Artist(s)
Filiation
Filiation
Additional remarks
Additional remarks
Portraits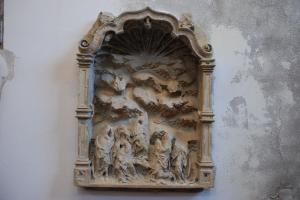 Indication of part
Indication of part
Single piece (front)
Place of the portrait
Place of the portrait
to the right of the Cross
Portrait of
Name
unknown person
Sex
unknown
Argumentation
Specification
Portrait — portraiture
Physical state of the portrayed person
alive
Argumentation
Specification
Posture
kneeling
Manner of portrayal
Portrait — clothing, attributes and insignia

Clothing
Type of clothing
Short description
Attributes
Attributes
Specification
attributes no longer visible (work is damaged)
Insignia
Insignia
Specification
Remarks about clothing

Additional remarks
Heraldry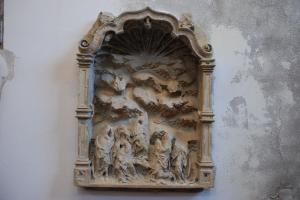 Indication of part
Indication of part
Single piece (front)
Place of heraldry
Place of heraldry
upper left corner, on top of the frame
Specification of heraldry
Type of heraldry
Specification
Shape of the shield
Late renaissance shield
Specification
Appears to be a cross between an early and a late renaissance shield. The shield is damaged.
Description of the shield
A [colour] chevron in the lower part; damaged; polychromy lost - (Een [kleur] keper in het onderste deel; beschadigd; polychromie verdwenen)
Description of the upper arms (helmet, crest and mantling)
Remarks
Additional parts of the achievement
Type of supporter
Specification
Motto
English translation of the motto
Insignia or attributes
Heraldry belonging to
Heraldry belonging to
Not identified

Person details
Person details

Additional remarks
Additional remarks
The upper half of the shield is missing
Indication of part
Indication of part
Single piece (front)
Place of heraldry
Place of heraldry
upper right corner, on top of the frame
Specification of heraldry
Type of heraldry
Personal use of family arms (one undivided shield)
Specification
Shape of the shield
Late renaissance shield
Specification
Appears to be a cross between an early and a late renaissance shield. The shield is damaged.
Description of the shield
In [colour] two [colour] keys saltire; damaged; polychromy lost - (In [kleur] twee gekruiste [kleur] sleutels; beschadigd; polychromie verdwenen)
Description of the upper arms (helmet, crest and mantling)
Remarks
Additional parts of the achievement
Type of supporter
Specification
Motto
English translation of the motto
Insignia or attributes
Heraldry belonging to
Heraldry belonging to
Schimmelpenninck

Person details
Person details

Additional remarks
Additional remarks
Saint Portraits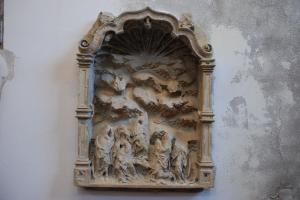 Indication of the part
Indication of the part
Single piece (front)
Place of the portrait
Place of the portrait
First saint from the right
Specification of saint
Name
unknown saint
Sex
unknown
Type of saint
Specification
Attributes
Specification
Gesture
Specification
Posture
standing
Specification
Additional remarks
Additional remarks
Person Description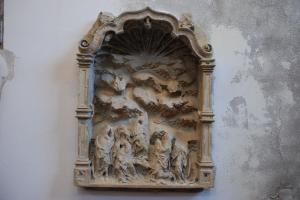 Personal identification number
Personal identification number
738
Personal details
Name
unknown person
Sex
unknown
Year/date of birth
Year/date of death
Additional remarks
Social standing
Status
Arguments
Specification
Member of a convent
Religious order
Specification
Member of secular clergy
Type of secular clergy
Specification
Additional remarks
Additional remarks