Description - Memorial Object
Memorial painting with the devotional portrait of a man (fragment)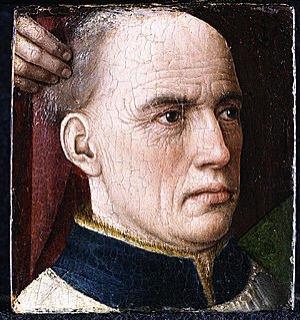 MeMO memorial object ID and name
MeMO memorial object ID
526
Name
Memorial painting with the devotional portrait of a man (fragment)
Holding institution(s)
Holding institution(s)

New York City, Metropolitan Museum of Art

Category
Type
Memorial item (physical object)
Classification
Single piece (painting)
Short description
Fragment of a painting showing the head of a devotional portrait and the hand of a saint
Remarks about category
General date
General date
1425-1475
Artist(s)
Artist(s)
Original institution(s)
Still in original institution?
no

Location inside the institution
In situ?
(Probable) original location
Argumentation
Related memorial objects in the same institution
Additional remarks (original location)

Additional remarks

Memorial piece
Function
Specification
Additional remarks
No information is available about possible other functions: the painting is a fragment
Memorial monument or floor slab
Function
Grave findings
Additional remarks

Original function
Change in function
Remarks about function
Name
Specification

Members of the commemorated party
Commemorated person(s)
Commemorated institution(s)

Relation between commemorated persons
Relation specification
Additional remarks
The original painting may have commemorated one or more other persons
Name
Composition of the commissioning party
Specification

Members of the commissioning party
Commissioning person(s)
Commissioning Institution(s)

Relation between commissioning party and commemorated party
Relation specification
Additional remarks
Material(s)
Specification
oil on panel
Traces of polychromy?
Reuse of older objects

Dimensions (cm)
Height x width x depth
10 x 9 x 0

Completeness
Incomplete: a fragment. The portrait was cut from a larger ensemble. In view of the fact that the head of the man is turned to the right, it is probable that his portrait was placed to the left of a religious scene.
Condition
Conservation
Technical research
Specification (technical research)

Alterations
Alterations
Specification

Additional remarks
Provenance
Provenance
Thomas Howard, Earl of Arundel and Norfolk, London (until d. 1646); his widow, Lady Alatheia Talbot, Countess of Arundel, Amsterdam (1646–d. 1654); Henry Thomas Howard-Molyneux-Howard, Greystoke Castle, Penrith, Cumberland (until d. 1824); Henry Howard, Greystoke Castle (by 1858–d. 1875); Henry Charles Howard, Greystoke Castle (until 1909); J. Pierpont Morgan, New York (from 1909); The Metropolitan Museum of Art, New York (since 1917, gift of J. Pierpont Morgan).
Marks of ownership
Type(s) of mark(s) of ownership
Specification

Ainsworth, M.W.; Christiansen, K., From Van Eyck to Brueghel: early Netherlandish painting in the Metropolitan Museum of Art (New York 1998), 156, 158-159
Berg, A. van den, "Bit voer die ziel": Wat kunnen technische gegevens duidelijk maken over de wandel van memorietafels door de eeuwen heen ( 1995)
Châtelet, A., Early Dutch painting: painting in the Northern Netherlands in the fifteenth century (Lausanne 1988), 209

Other documentation
Additional remarks
Additional remarks
Single piece (front) of [526] Memorial painting with the devotional portrait of a man (fragment)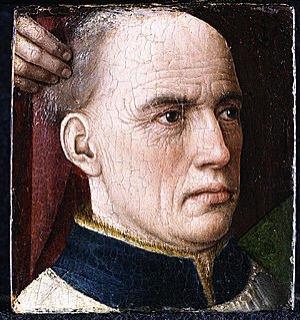 Indication of part
Indication of part
Single piece (front)
Short description
Short description
Fragment showing the head of a devotional portrait and the hand of a saint in the upper left corner
Dimensions (cm)
Height x Width x Depth
10 x 9 x 0
Date
Year
1425-1475
Specified date
Argumentation

based on stylistic research

Specification
date based on stylistic analysis
Additional remarks
Holding institution
Holding institution
New York City, Metropolitan Museum of Art
Collection
European Paintings
Collection identifier
17.190.22
Online description link
Alternative or previous collections
Alternative of previous identifiers
Accessibility
Remarks about holding institution
Contract
Contract
Artist(s)

Identity
Name
Ouwater, Albert van
Attribution
Specification
attribution(s) on stylistic grounds
Assignment
Role
Specification

Additional remarks
Filiation
Filiation
Additional remarks
Additional remarks
Portraits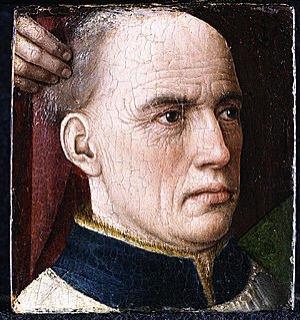 Indication of part
Indication of part
Single piece (front)
Place of the portrait
Place of the portrait
unknown (context is lost)
Portrait of
Name
unknown man
Sex
male
Argumentation
Specification
Portrait — portraiture
Physical state of the portrayed person
alive
Argumentation
Specification
Posture
uncertain/cannot be determined
Manner of portrayal
The hand in the upper left corner seems to indicate that a saint is standing immediately behind the portrayed man. This would imply that the man was depicted kneeling.
Portrait — clothing, attributes and insignia

Clothing
Type of clothing
Short description
alb or surplice?
Attributes
Attributes
Specification
Insignia
Insignia
Specification
Remarks about clothing

Additional remarks
The fragment merely shows the man's head and part of his upper body. Based on his clothing, the man was probably a member of the clergy.
Saint Portraits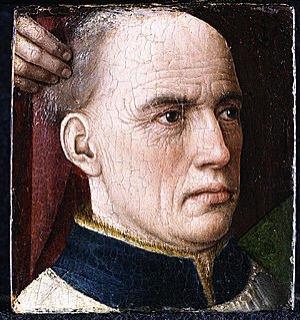 Indication of the part
Indication of the part
Single piece (front)
Place of the portrait
Place of the portrait
Behind or near the portrayed person(s)
Specification of saint
Name
unknown saint
Sex
unknown
Type of saint
Specification
Attributes
Specification
Gesture
Specification
Posture
standing
Specification
Additional remarks
Additional remarks
Only the hand of the saint is visible
Person Description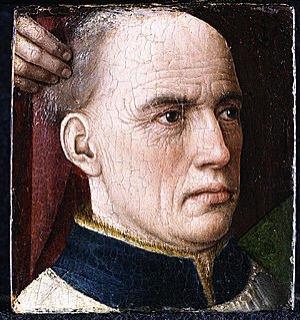 Personal identification number
Personal identification number
864
Personal details
Name
unknown man
Sex
male
Year/date of birth
Year/date of death
Additional remarks
Social standing
Status
secular clergy
Arguments

clothing of the portrayed person

Specification
probably a member of the clergy
Member of a convent
Religious order
Specification
Member of secular clergy
Type of secular clergy
Specification
Additional remarks
Additional remarks