Description - Memorial Object
Remnants of a memorial sculpture of Petrus Bloem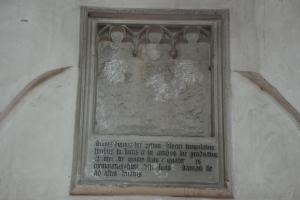 MeMO memorial object ID and name
MeMO memorial object ID
537
Name
Remnants of a memorial sculpture of Petrus Bloem
Holding institution(s)
Holding institution(s)
Category
Type
Memorial item (physical object)
Classification
Single piece (sculpture)
Short description
Remnants of a memorial sculpture, with the frame, a heraldic shield, and the stone tablet with memorial text
Remarks about category
General date
General date
1375-1425
Artist(s)
Artist(s)
Original institution(s)
Still in original institution?
yes

Location inside the institution
In situ?
probably yes
(Probable) original location

in the (side) aisle
near another memorial object for the commemorated person(s) or relatives

Argumentation
Related memorial objects in the same institution
Additional remarks (original location)

Additional remarks
located above the south portal; probably near the grave of the commemorated person, See Inscriptions

Memorial piece
Function
Specification
Additional remarks
See Additional remarks for a depiction of the religious image
Memorial monument or floor slab
Function
Grave findings
Additional remarks

Original function
Change in function
Remarks about function
Name
Petrus Bloem
Specification

Members of the commemorated party
Commemorated person(s)

[3149] Petrus Bloem (male)

Commemorated institution(s)

Relation between commemorated persons
not applicable (only one person mentioned/depicted)
Relation specification
Additional remarks
Name
Petrus Bloem
Composition of the commissioning party
Specification

Members of the commissioning party
Commissioning person(s)

[3149] Petrus Bloem (male)

Commissioning Institution(s)

Relation between commissioning party and commemorated party
The commissioning party was the commemorated party
Relation specification
Additional remarks
Bogaers (2005, 2008) assumes that Bloem was the patron of this memorial sculpture since he was still alive when the work was made. The date of death would then have been added at a later date, which is very well possible.
Material(s)
Specification
stone; paint
Traces of polychromy?
Reuse of older objects

Dimensions (cm)
Height x width x depth
110 x 80 x 0

Completeness
The religious image has been hacked away. Original stone frame.
Condition
The contours of some of the figures of the image are still visible, as well as a heraldic shield
Conservation
The letters may have been retouched
Technical research
Specification (technical research)

Alterations
Alterations
Specification

Additional remarks
Dimensions of the text field: 23 x 75 cm
Provenance
Provenance
The sculpture has been in the church of old
Marks of ownership
Type(s) of mark(s) of ownership
Specification

Bloys van Treslong Prins, P.C., Genealogische en heraldische gedenkwaardigheden in en uit de kerken der provincie Utrecht (Utrecht 1919), 264; no. 36
Bogaers, L.C.J.J., Aards, betrokken en zelfbewust. De verwevenheid van cultuur en religie in katholiek Utrecht, 1300-1600 (Utrecht 2008), 613, 616, 897, 902
Bogaers, L.C.J.J., Commemoration in a Utrecht collegiate church: burial and memorial culture in St. Peter's (1054-1784), in: Bueren, T. van; Leerdam, Andrea van, Care for the here and the hereafter: memoria, art and ritual in the Middle Ages (Turnhout 2005), 191-219, 191-219, 199, 200, 213
Buchelius, A., Monumenta passim in templis ac monasteriis Traiectinae urbis atque agri inventa (Utrecht ), 73; fol. 39r
Groot, Arie de; Bogaers, L.C.J.J., Van anonieme graven tot persoonsgebonden grafmonumenten: zeven eeuwen grafcultuur in de Utrechtse Pieterskerk, Trajecta: tijdschrift voor de geschiedenis van het katholiek leven in de Nederlanden 11 (2002), 211-243, 214, 229
Helmus, L.M., Pieter Saenredam, the Utrecht work: paintings and drawings by the 17th-century master of perspective (Utrecht 2000), 216-218
Kiviet, G. de; Heinrichs, B., Onderzoek naar memorievoorstellingen in de Sint Pieterskerk te Utrecht, in: , Zorg voor het hier en het hiernamaals: memorievoorstellingen in enkele middeleeuwse Utrechtse kerken (Utrecht 1996), , 25-26

Other documentation
SKKN: inv. no. 972-89
Additional remarks
Additional remarks
The now-lost religious image is depicted in a 1636 drawing by Pieter Saenredam (Het Utrechts Archief, inv. nr TA lb 4.3). It shows the Virgin and Child on the right, and a patron saint behind a devotional portrait on the left.
Single piece (front) of [537] Remnants of a memorial sculpture of Petrus Bloem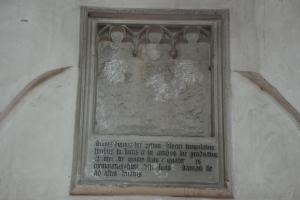 Indication of part
Indication of part
Single piece (front)
Short description
Short description
Remnants of a memorial sculpture, with the frame, a heraldic shield, and the stone tablet with memorial text
Dimensions (cm)
Height x Width x Depth
110 x 80 x 0
Date
Year
ca.1400
Specified date
Argumentation

based on historical and/or technical research

Specification
The commemorated person was still alive when the sculpture was made. He died in 1415.
Additional remarks
Holding institution
Holding institution
Utrecht, Pieterskerk
Collection
Collection identifier
Online description link
Alternative or previous collections
Alternative of previous identifiers
Accessibility
Remarks about holding institution
The sculpture is located above the south portal
Contract
Contract
Artist(s)
Filiation
Filiation
Additional remarks
Additional remarks
Heraldry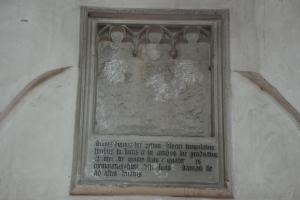 Indication of part
Indication of part
Single piece (front)
Place of heraldry
Place of heraldry
below the middle trefoil
Specification of heraldry
Type of heraldry
Specification
Shape of the shield
High gothic shield
Specification
Description of the shield
Heraldic shield, polychromy lost - (Heraldisch schild, polychromie verdwenen)
Description of the upper arms (helmet, crest and mantling)
Remarks
Additional parts of the achievement
Type of supporter
Specification
Motto
English translation of the motto
Insignia or attributes
Heraldry belonging to
Heraldry belonging to
Not identified

Person details
Person details

Additional remarks
Additional remarks
Inscriptions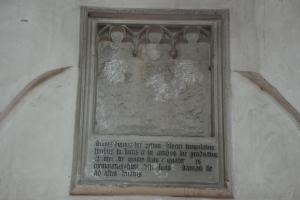 Indication of part
Indication of part
Single piece (front)
Place of the inscription
Place of the inscription
across the tablet below the now lost religious image
Language(s)
Languages
Language specification
Transcription
Transcription
Fervens divinis hic Petrus Bloem tumulatus./ Iuribus in binis et in artibus hic graduatus./ M cum ter quinis dum C quater es memoratus,/ huic vite finis Damasi. Sit ad astra levatus.
Translation
English translation
Ardent in his religious devotion was Petrus Bloem, who is buried here. He graduated in both laws and in the liberal arts. When you were reminded of one thousand, three times five and then four times one hundred (1415) his life ended on St Damasus's Day. May he have been received into heaven.
Dutch translation
Vurig in godsdienst was Petrus Bloem die hier begraven ligt. In de beide rechten en in de vrije kunsten heeft hij een graad behaald. Toen u werd herinnerd aan duizend, driemaal vijf en nog viermaal honderd (1415) kwam aan zijn leven een einde op St. Damaas. Moge hij in de hemel zijn opgenomen.
Lay–out
Lay-out
Gothic textualis
Inscription mentioning
Name
[3149] Petrus Bloem (male)
Sex
male
Argumentation
the person is being commemorated
Additional remarks
Additional remarks
Leonine hexameters. • St Damasus's Day is on December 11.
Person Description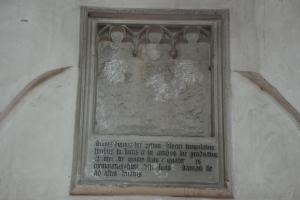 Personal identification number
Personal identification number
3149
Personal details
Name
Petrus Bloem
Sex
male
Year/date of birth
Year/date of death
1415/12/11
Additional remarks
He was Doctor of Canon and Civil Law, and Master in the Liberal Arts. He was buried in the St. Pieterskerk (St Peter's Church) in Utrecht.
Social standing
Status
secular clergy
Arguments
Specification
Member of a convent
Religious order
Specification
Member of secular clergy
Type of secular clergy
canon
Specification
canon at the St. Pieterskerk (St Peter's Church) in Utrecht
Additional remarks
Additional remarks