Description - Memorial Object
Virgin and Child with devotional portrait of a man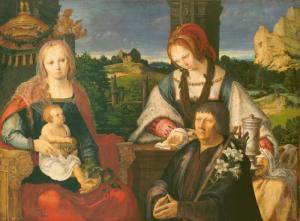 MeMO memorial object ID and name
MeMO memorial object ID
601
Name
Virgin and Child with devotional portrait of a man
Holding institution(s)
Holding institution(s)
Category
Type
Memorial item (physical object)
Classification
Diptych
Short description
Panels of a former diptych showing the Virgin and Child with devotional portrait and saint
Remarks about category
General date
General date
1500-1525
Artist(s)
Artist(s)
Original institution(s)
Still in original institution?
no

Location inside the institution
In situ?
(Probable) original location
Argumentation
Related memorial objects in the same institution
Additional remarks (original location)

Additional remarks
Vogelaar (2011) suggests the convent of Dominican sisters (or white nuns) on the Rapenburg in Leiden as possible original location of the work, a diptych originally

Memorial piece
Function
Specification
Additional remarks
Memorial monument or floor slab
Function
Grave findings
Additional remarks

Original function
unknown
Change in function
Remarks about function
Name
Specification

Members of the commemorated party
Commemorated person(s)

[1097] unknown man (male)

Commemorated institution(s)

Relation between commemorated persons
no relation (only one person mentioned/depicted)
Relation specification
Additional remarks
See also Portraits
Name
Composition of the commissioning party
Specification

Members of the commissioning party
Commissioning person(s)
Commissioning Institution(s)

Relation between commissioning party and commemorated party
Relation specification
Additional remarks
Material(s)
Specification
oil on oak
Traces of polychromy?
Reuse of older objects

Dimensions (cm)
Height x width x depth

Completeness
• Originally two wings of a diptych with a semi-circular top. At one point, the two wings of the diptych were integrated into one rectangular piece. There is disagreement about when this happened: according to Baumstark (et al, 2005) the wings were integrated as early as the 17th century, while Vogelaar (2011) claims that this took place in the 19th century. • The fronts and backs of the wings were separated in 1874. The exterior right wing was given a chamfered top.
Condition
Conservation
Technical research
Specification (technical research)

Alterations
Alterations
Specification

Additional remarks
Provenance
Provenance
See literature: Catalogue Alte Pinakothek München (Munich 1999)
Marks of ownership
Type(s) of mark(s) of ownership
Specification

Baumstark, R., Alte Pinakothek, ausgewählte Werke (Munich/Cologne 2005), 201
Eikemeier, P., Alte Pinakothek München: Erläuterungen zu den ausgestellten Gemälden (Munich 1999), 289-291
Friedländer, M.J., Early Netherlandish painting, vol X (Leiden/Brussels 1967), 81-82
Jongh, E. de, Grape Symbolism in paintings of the 16th and 17th centuries, Simiolus 7 (1974), 166-191, 166-191
Vogelaar, C.; Veldman, I.M.; Filedt Kok, J.P.; Leeflang, H., Lucas van Leyden en de Renaissance (Antwerp 2011), 40-41

Other documentation
Additional remarks
Additional remarks
Exterior right wing of [601] Virgin and Child with devotional portrait of a man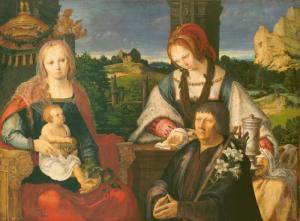 Indication of part
Indication of part
Exterior right wing
Short description
Short description
Annunciation
Dimensions (cm)
Height x Width x Depth
42 x 29 x 0
Date
Year
1522
Specified date
Argumentation

date given on the object (not date of death)

Specification
date given on the interior wings (now a single piece)
Additional remarks
Holding institution
Holding institution
Munich, Alte Pinakothek
Collection
Collection identifier
742
Online description link
Alternative or previous collections
Alternative of previous identifiers
Accessibility
Remarks about holding institution
Contract
Contract
Artist(s)

Identity
Name
Leyden, Lucas van
Attribution
Specification
signed ('L' on the parapet behind the portrait)
Assignment
Role
Specification

Additional remarks
Filiation
Filiation
Additional remarks
Additional remarks
Originally the exterior right wing of the diptych
Single piece (front) of [601] Virgin and Child with devotional portrait of a man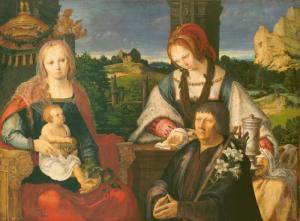 Indication of part
Indication of part
Single piece (front)
Short description
Short description
Virgin and Child with devotional portrait of a man and St Mary Magdalene
Dimensions (cm)
Height x Width x Depth
50 x 68 x 0
Date
Year
1522
Specified date
Argumentation

date given on the object (not date of death)

Specification
date inscribed on the parapet behind the portrait
Additional remarks
Holding institution
Holding institution
Munich, Alte Pinakothek
Collection
Collection identifier
742
Online description link
Alternative or previous collections
Alternative of previous identifiers
Accessibility
Remarks about holding institution
Contract
Contract
Artist(s)

Identity
Name
Leyden, Lucas van
Attribution
Specification
signed ('L' on the parapet behind the portrait)
Assignment
Role
Specification

Additional remarks
Filiation
Filiation
Additional remarks
Additional remarks
Originally the two interior wings of the diptych
Portraits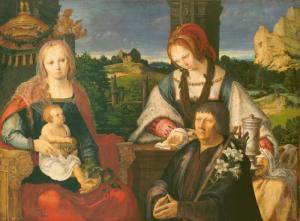 Indication of part
Indication of part
Single piece (front)
Place of the portrait
Place of the portrait
on the right (foreground)
Portrait of
Name
unknown man
Sex
male
Argumentation
Specification
Portrait — portraiture
Physical state of the portrayed person
alive
Argumentation
Specification
Posture
in half-figure
Manner of portrayal
folded hands
Portrait — clothing, attributes and insignia

Clothing
Type of clothing
Short description
bluish cloak worn over a brown garment
Attributes
Attributes
Specification
lily; stick with a bucket of tools hanging from it
Insignia
Insignia
Specification
Remarks about clothing

Additional remarks
Three suggestions regarding the portrait: 1) The tools refer to the profession of the portrayed man. 2) The devotional portrait was changed into St Joseph by adding a lily and carpenter's tools to the original portrait. 3) Vogelaar (2011) identifies the man as Jacob de Ridder (ca. 1475-1529), a distinguished member of the clergy who was attached to the Dominican convent in Leiden. He founded an altar there which was dedicated to St Mary Magdalene, the patroness of the convent and the Dominican Order. Furthermore, she is the patron saint of the man on the painting. This identification, however, does not account for the attributes of the portrayed man.
Saint Portraits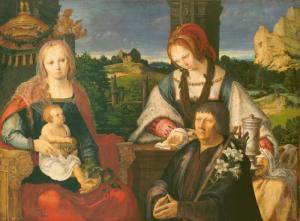 Indication of the part
Indication of the part
Single piece (front)
Place of the portrait
Place of the portrait
Behind or near the portrayed person(s)
Specification of saint
Name
Mary Magdalene
Sex
female
Type of saint
Specification
Patron saint of the possible original location of the diptych, the convent church of the Leiden Dominicans, which in 1516 was dedicated to St Mary Magdalene (suggested by Vogelaar, 2011)
Attributes

medical tools/medication/hygiene

Specification
ointment jar
Gesture

pointing to a commemorated person
holding one or more attributes in his/her hands

Specification
Posture
sitting
Specification
Additional remarks
Additional remarks
Person Description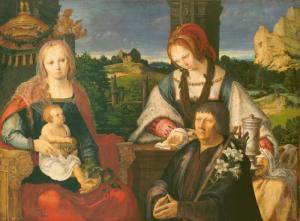 Personal identification number
Personal identification number
1097
Personal details
Name
unknown man
Sex
male
Year/date of birth
Year/date of death
Additional remarks
Social standing
Status
Arguments
Specification
Member of a convent
Religious order
Specification
Member of secular clergy
Type of secular clergy
Specification
Additional remarks
Additional remarks