Description - Memorial Object
Memorial painting (triptych) with the Healing of the Blind of Jericho and the heraldic shields of Jacob Florisz. van Montfoort and Dirkje Dirk Boelensdr. van Lindenburg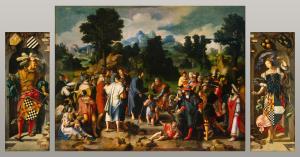 MeMO memorial object ID and name
MeMO memorial object ID
608
Name
Memorial painting (triptych) with the Healing of the Blind of Jericho and the heraldic shields of Jacob Florisz. van Montfoort and Dirkje Dirk Boelensdr. van Lindenburg
Holding institution(s)
Holding institution(s)
Category
Type
Memorial item (physical object)
Classification
Triptych
Short description
Panels of a former triptych showing the Healing of the Blind of Jericho and heraldic shields
Remarks about category
General date
General date
1525-1550
Artist(s)
Artist(s)
Original institution(s)
Still in original institution?
no
Additional remarks

Memorial piece
Function

liturgical/religious
social

Specification
Additional remarks
• Commemorated on the object are a married couple, (members of) a nuclear family or (members of) an extended family: see Commemorated party. • No information is available about possible other functions: memorial text(s) may be missing.
Memorial monument or floor slab
Function
Grave findings
Additional remarks

Original function
Change in function
Remarks about function
Name
Jacob Florisz. van Montfoort and Dirkje Dirk Boelensdr. van Lindenburg
Specification

Members of the commemorated party
Commemorated person(s)

[1442] Dirkje Dirk Boelensdr. van Lindenburg (female)
[1438] Jacob Florisz. van Montfoort (male)

Commemorated institution(s)

Relation between commemorated persons
married couple
Relation specification
Additional remarks
The identifications are based on the heraldic shields, see Heraldry
Name
Composition of the commissioning party
Specification

Members of the commissioning party
Commissioning person(s)
Commissioning Institution(s)

Relation between commissioning party and commemorated party
Relation specification
Additional remarks
Material(s)
Specification
oil on canvas; wooden frame
Traces of polychromy?
Reuse of older objects

Dimensions (cm)
Height x width x depth

Completeness
• The fronts and backs of the wings were separated between 1740 and 1755. The central panel and interior wings were subsequently joined together into a single piece. The exterior wings are now separate panels. • The original triptych may have had a memorial text and heraldry on the frame(s) and/or a separate text panel. The current frame is not the original frame.
Condition
Conservation
• The paintings were transferred from panel to canvas around 1750. • In 1848-1850, the canvas of the central panel was enlarged, after which parts of the sky were added. The exterior wings were cut down at the top. • Heraldic errors were made during repainting(s).
Technical research

infrared reflectography (IRR)

Specification (technical research)

Alterations
Alterations
Specification

Additional remarks
Provenance
Provenance
See literature: Kunst voor de Beeldenstorm (The Hague 1986)
Marks of ownership
Type(s) of mark(s) of ownership
Specification

Hoogewerff, G.J., De Noord-Nederlandse schilderkunst, vol III (The Hague 1936), 306-312
Kloek, W.Th., Kunst voor de beeldenstorm: Noordnederlandse kunst, 1525-1580, vol. I (The Hague 1986), 151-152
Miedema, H., Karel van Mander. The lives of the illustrious Netherlandish and German painters. Vol. I (Doornspijk 1994); 212v-213r
Vogelaar, C.; Filedt Kok, J.P.; Leeflang, H.; Veldman, I.M., Lucas van Leyden en de Renaissance (Antwerp 2011), 323-324

Other documentation
Additional remarks
Additional remarks
Dirkje Dirk Boelensdr. van Lindenburg was a descendant of the Boelen family, a powerful merchant's family from Amsterdam. Jacob Florisz. van Montfoort, a wealthy brick-maker, died in 1554. After the death of her husband, Dirkje commissioned a triptych by Aertgen van Leyden, see 'Last Judgement with devotional portraits of the Van Montfoort-Van Lindenburg family', MeMO Memorial Object ID 675. This triptych was placed above the grave of Jacob Florisz. van Montfoort in the Maria Magdalenakerk (Church of St Mary Magdelene) in Leiden.
Exterior left wing of [608] Memorial painting (triptych) with the Healing of the Blind of Jericho and the heraldic shields of Jacob Florisz. van Montfoort and Dirkje Dirk Boelensdr. van Lindenburg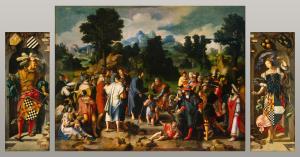 Indication of part
Indication of part
Exterior left wing
Short description
Short description
Standing male figure (soldier) supporting a shield and two other shields above
Dimensions (cm)
Height x Width x Depth
89 x 33 x 0
Date
Year
1531
Specified date
Argumentation

based on historical evidence (in literature)

Specification
Van Mander mentions that the exterior wings were dated 1531. The date was probably lost when the exterior wings were cut down in size in the 19th century.
Additional remarks
Holding institution
Holding institution
St Petersburg, Hermitage
Collection
Collection identifier
409
Online description link
Alternative or previous collections
Alternative of previous identifiers
Accessibility
Remarks about holding institution
Contract
Contract
Artist(s)

Identity
Name
Leyden, Lucas van
Attribution

based on historical evidence (in literature)
signature

Specification
signed ('L' on a stone in the foreground of the central panel); mentioned by Van Mander
Assignment
Role
Specification

Additional remarks
Filiation
Filiation
Additional remarks
Additional remarks
Exterior right wing of [608] Memorial painting (triptych) with the Healing of the Blind of Jericho and the heraldic shields of Jacob Florisz. van Montfoort and Dirkje Dirk Boelensdr. van Lindenburg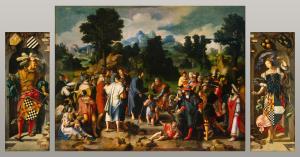 Indication of part
Indication of part
Exterior right wing
Short description
Short description
Standing female figure supporting a shield and two other shields above
Dimensions (cm)
Height x Width x Depth
89 x 33 x 0
Date
Year
1531
Specified date
Argumentation

based on historical evidence (in literature)

Specification
Van Mander mentions that the exterior wings were dated 1531. The date was probably lost when the exterior wings were cut down in size in the 19th century.
Additional remarks
Holding institution
Holding institution
St Petersburg, Hermitage
Collection
Collection identifier
409
Online description link
Alternative or previous collections
Alternative of previous identifiers
Accessibility
Remarks about holding institution
Contract
Contract
Artist(s)

Identity
Name
Leyden, Lucas van
Attribution

based on historical evidence (in literature)
signature

Specification
signed ('L' on a stone in the foreground of the central panel); mentioned by Van Mander
Assignment
Role
Specification

Additional remarks
Filiation
Filiation
Additional remarks
Additional remarks
Single piece (front) of [608] Memorial painting (triptych) with the Healing of the Blind of Jericho and the heraldic shields of Jacob Florisz. van Montfoort and Dirkje Dirk Boelensdr. van Lindenburg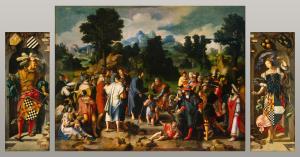 Indication of part
Indication of part
Single piece (front)
Short description
Short description
Healing of the Blind of Jericho
Dimensions (cm)
Height x Width x Depth
116 x 150 x 0
Date
Year
1531
Specified date
Argumentation

based on historical evidence (in literature)

Specification
Van Mander mentions that the exterior wings were dated 1531. The date was probably lost when the exterior wings were cut down in size in the 19th century.
Additional remarks
Holding institution
Holding institution
St Petersburg, Hermitage
Collection
Collection identifier
409
Online description link
Alternative or previous collections
Alternative of previous identifiers
Accessibility
Remarks about holding institution
Contract
Contract
Artist(s)

Identity
Name
Leyden, Lucas van
Attribution

based on historical evidence (in literature)
signature

Specification
signed ('L' on a stone in the foreground of the central panel); mentioned by Van Mander
Assignment
Role
Specification

Additional remarks
Filiation
Filiation
Additional remarks
Additional remarks
Central panel plus former interior wings
Heraldry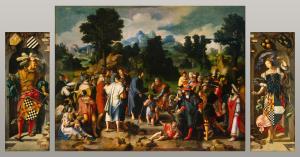 Indication of part
Indication of part
Exterior left wing
Place of heraldry
Place of heraldry
in the foreground
Specification of heraldry
Type of heraldry
Personal use of family arms (one undivided shield)
Specification
Shape of the shield
High gothic shield
Specification
Description of the shield
Quarterly I and IV: checky of five rows of five pieces of silver and black; II and III: in gold a red cross moline charged with a gold escutcheon with three red fleurs-de-lys (2-1) - (Gevierendeeld I en IV: geschaakt in vijf rijen van vijf stukken van zilver en zwart; II en III: in goud een rood ankerkruis beladen met een gouden hartschild met drie rode lelies (2-1))
Description of the upper arms (helmet, crest and mantling)
Remarks
Additional parts of the achievement
Type of supporter

One or two human figures
Other (guige or band, tree, branch)

Specification
Standing male figure (soldier) holding a guige or band
Motto
English translation of the motto
Insignia or attributes
Heraldry belonging to
Heraldry belonging to
Van Montfoort

Person details
Person details

[1438] Jacob Florisz. van Montfoort (male)

Additional remarks
Additional remarks
Indication of part
Indication of part
Exterior left wing
Place of heraldry
Place of heraldry
upper left corner
Specification of heraldry
Type of heraldry
Personal use of family arms (one undivided shield)
Specification
Shape of the shield
High gothic shield
Specification
Description of the shield
In gold a silver lion guardant - (In goud een aanziende zilveren leeuw)
Description of the upper arms (helmet, crest and mantling)
Remarks
Additional parts of the achievement
Type of supporter
Specification
Motto
English translation of the motto
Insignia or attributes
Heraldry belonging to
Heraldry belonging to
Not identified

Person details
Person details

Additional remarks
Additional remarks
This shield contains heraldic errors, which were probably made when it was repainted
Indication of part
Indication of part
Exterior left wing
Place of heraldry
Place of heraldry
upper right corner
Specification of heraldry
Type of heraldry
Personal use of family arms (one undivided shield)
Specification
Shape of the shield
High gothic shield
Specification
Description of the shield
In silver three black pales - (In zilver drie zwarte palen)
Description of the upper arms (helmet, crest and mantling)
Remarks
Additional parts of the achievement
Type of supporter
Specification
Motto
English translation of the motto
Insignia or attributes
Heraldry belonging to
Heraldry belonging to
Not identified

Person details
Person details

Additional remarks
Additional remarks
This shield contains heraldic errors, which were probably made when it was repainted
Indication of part
Indication of part
Exterior right wing
Place of heraldry
Place of heraldry
in the foreground
Specification of heraldry
Type of heraldry
Marshalled arms (2 coats of arms in one shield per pale or per fess)
Specification
Shape of the shield
Lozenge shield
Specification
Description of the shield
Per pale I: as arms on exterior left wing (foreground); II: in black [green] a silver fess (damascened gold) - (Gedeeld I: als wapen op buitenzijde linkerluik (voorgond); II: in zwart [groen] een zilveren dwarsbalk (goud gedamasceerd))
Description of the upper arms (helmet, crest and mantling)
Remarks
Additional parts of the achievement
Type of supporter

One or two human figures
Other (guige or band, tree, branch)

Specification
Standing female figure holding a guige or band
Motto
English translation of the motto
Insignia or attributes
Heraldry belonging to
Heraldry belonging to
Van Montfoort-Boelen

Person details
Person details

[1442] Dirkje Dirk Boelensdr. van Lindenburg (female)

Additional remarks
Additional remarks
Indication of part
Indication of part
Exterior right wing
Place of heraldry
Place of heraldry
upper left corner
Specification of heraldry
Type of heraldry
Personal use of family arms (one undivided shield)
Specification
Shape of the shield
High gothic shield
Specification
Description of the shield
In black three gold roundles (2-1) - (In zwart drie gouden bollen (2-1))
Description of the upper arms (helmet, crest and mantling)
Remarks
Additional parts of the achievement
Type of supporter
Specification
Motto
English translation of the motto
Insignia or attributes
Heraldry belonging to
Heraldry belonging to
Not identified

Person details
Person details

Additional remarks
Additional remarks
This shield contains heraldic errors, which were probably made when it was repainted
Indication of part
Indication of part
Exterior right wing
Place of heraldry
Place of heraldry
upper right corner
Specification of heraldry
Type of heraldry
Personal use of family arms (one undivided shield)
Specification
Shape of the shield
High gothic shield
Specification
Description of the shield
In black three gold acorns (2-1) - (In zwart drie gouden eikels (2-1))
Description of the upper arms (helmet, crest and mantling)
Remarks
Additional parts of the achievement
Type of supporter
Specification
Motto
English translation of the motto
Insignia or attributes
Heraldry belonging to
Heraldry belonging to
Not identified

Person details
Person details

Additional remarks
Additional remarks
This shield contains heraldic errors, which were probably made when it was repainted
Person Description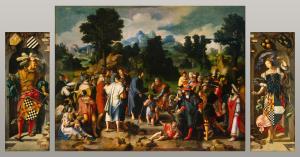 Personal identification number
Personal identification number
1438
Personal details
Name
Jacob Florisz. van Montfoort
Sex
male
Year/date of birth
Year/date of death
1554/05/17
Additional remarks
Son of Floris Jacobsz. van Montfoort and Beatrix Kerstant Nannensdr. van Lis. Jacob married Dirkje Dirk Boelensdr. van Lindenburg in 1504. The couple lived in Leiden. He was buried there in the convent church of Dominican nuns.
Social standing
Status
citizen of city
Arguments
Specification
wealthy brick-maker in Leiden
Member of a convent
Religious order
Specification
Member of secular clergy
Type of secular clergy
Specification
Additional remarks
Additional remarks
Personal identification number
Personal identification number
1442
Personal details
Name
Dirkje Dirk Boelensdr. van Lindenburg
Sex
female
Year/date of birth
Year/date of death
1566/03/06
Additional remarks
Descendant of the Boelen family, a powerful merchant's family from Amsterdam. Daughter of Dirk Boelen and Kathrijn Coman Claesdr. Dirkje married Jacob Florisz. van Montfoort in 1504. The couple lived in Leiden. She was buried there in the convent church of Dominican nuns.
Social standing
Status
Arguments
Specification
Member of a convent
Religious order
Specification
Member of secular clergy
Type of secular clergy
Specification
Additional remarks
Additional remarks