Description - Memorial Object
Memorial painting with the Adoration of the Magi and the devotional portrait of a male member of a convent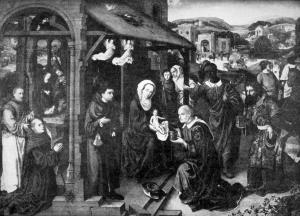 MeMO memorial object ID and name
MeMO memorial object ID
664
Name
Memorial painting with the Adoration of the Magi and the devotional portrait of a male member of a convent
Holding institution(s)
Holding institution(s)

Turin, Pinacoteca dell'Accademia Albertina

Category
Type
Memorial item (physical object)
Classification
Painting (single piece)
Short description
Painting showing the Adoration of the Magi with devotional portrait and saint
Remarks about category
Single piece: no separation between portrait(s) - main image
General date
General date
1450-1500
Artist(s)
Artist(s)

Turin Adoration, Master of the

Original institution(s)
Still in original institution?
no

Location inside the institution
In situ?
(Probable) original location
Argumentation
Related memorial objects in the same institution
Additional remarks (original location)

Additional remarks

Memorial piece
Function
Specification
Additional remarks
• Given its size, the painting may have functioned as an altarpiece. • No information is available about possible other functions: memorial text(s) may be missing.
Memorial monument or floor slab
Function
Grave findings
Additional remarks

Original function
Change in function
Remarks about function
Name
Specification

Members of the commemorated party
Commemorated person(s)

[1334] unknown male member of a convent (male)

Commemorated institution(s)

Relation between commemorated persons
not applicable (only one person mentioned/depicted)
Relation specification
Additional remarks
Name
Composition of the commissioning party
Specification

Members of the commissioning party
Commissioning person(s)
Commissioning Institution(s)

Relation between commissioning party and commemorated party
Relation specification
Additional remarks
Material(s)
Specification
oil on panel
Traces of polychromy?
Reuse of older objects

Dimensions (cm)
Height x width x depth
155 x 212 x 0

Completeness
The painting may have had a memorial text and heraldry on the frame and/or a separate text panel
Condition
Conservation
Technical research
Specification (technical research)

Alterations
Alterations
Specification

Additional remarks
Provenance
Provenance
Marks of ownership
Type(s) of mark(s) of ownership
Specification

Hoogewerff, G.J., De Noord-Nederlandse schilderkunst, vol. I (The Hague 1936), 510

Other documentation
Additional remarks
Additional remarks
Single piece (front) of [664] Memorial painting with the Adoration of the Magi and the devotional portrait of a male member of a convent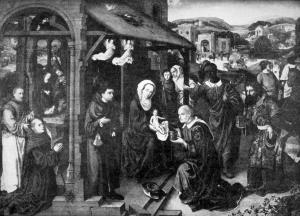 Indication of part
Indication of part
Single piece (front)
Short description
Short description
Adoration of the Magi with devotional portrait of a male member of a convent and an unknown male saint
Dimensions (cm)
Height x Width x Depth
155 x 212 x 0
Date
Year
ca.1450-1500
Specified date
Argumentation

based on stylistic research

Specification
date based on stylistic analysis
Additional remarks
Holding institution
Holding institution
Turin, Pinacoteca dell'Accademia Albertina
Collection
Collection identifier
Online description link
Alternative or previous collections
Alternative of previous identifiers
Accessibility
Remarks about holding institution
Contract
Contract
Artist(s)

Identity
Name
Turin Adoration, Master of the
Attribution
Specification
attribution(s) on stylistic grounds
Assignment
Role
Specification

Additional remarks
Filiation
Filiation
Additional remarks
Additional remarks
Portraits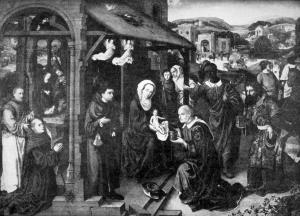 Indication of part
Indication of part
Single piece (front)
Place of the portrait
Place of the portrait
on the left
Portrait of
Name
unknown male member of a convent
Sex
male
Argumentation
Specification
Portrait — portraiture
Physical state of the portrayed person
alive
Argumentation
Specification
Posture
kneeling
Manner of portrayal
folded hands
Portrait — clothing, attributes and insignia

Clothing
Type of clothing
clothes of a member of a convent/religious order
Short description
dark habit with a cowl (?)
Attributes
Attributes
Specification
Insignia
Insignia
Specification
Remarks about clothing

Additional remarks
The portrayed person appears to be holding a staff with a banner, which seems to indicate that he is an abbot. The man may be identified as a Franciscan or Benedictine monk, based on the clothes he is wearing (not properly visible due to the poor quality of the photo).
Saint Portraits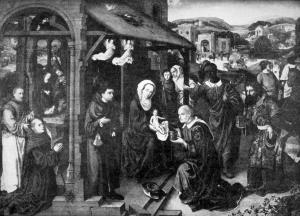 Indication of the part
Indication of the part
Single piece (front)
Place of the portrait
Place of the portrait
Behind or near the portrayed person(s)
Specification of saint
Name
unknown male saint
Sex
male
Type of saint
Specification
Attributes
Specification
attribute(s) not properly visible on the photo
Gesture

pointing to a commemorated person

Specification
Posture
standing
Specification
Additional remarks
Additional remarks
Person Description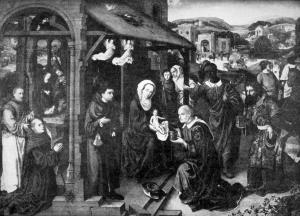 Personal identification number
Personal identification number
1334
Personal details
Name
unknown male member of a convent
Sex
male
Year/date of birth
Year/date of death
Additional remarks
Social standing
Status
member of a convent/religious order
Arguments

clothing of the portrayed person

Specification
Member of a convent
Religious order
order unknown
Specification
Franciscan or Benedictine monk, perhaps an abbot
Member of secular clergy
Type of secular clergy
Specification
Additional remarks
Additional remarks