Description - Memorial Object
Memorial painting with the portraits of five members of the Utrecht Confraternity of Jerusalem Pilgrims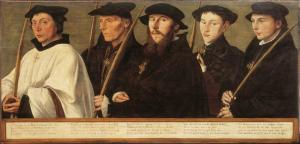 MeMO memorial object ID and name
MeMO memorial object ID
672
Name
Memorial painting with the portraits of five members of the Utrecht Confraternity of Jerusalem Pilgrims
Holding institution(s)
Holding institution(s)
Category
Type
Memorial item (physical object)
Classification
Single piece (painting)
Short description
Painting showing portraits and inscriptions
Remarks about category
General date
General date
1525-1550
Artist(s)
Artist(s)
Original institution(s)
Still in original institution?
no

Location inside the institution
In situ?
(Probable) original location
Argumentation
Related memorial objects in the same institution
Additional remarks (original location)

Additional remarks
The painting may have hung on the wall to the right of the monument of the Holy Sepulchre (= a copy of the Holy Sepulchre of Jerusalem)

Memorial piece
Function

historical
liturgical/religious
social

Specification
Additional remarks
• Commemorated on the object are holders of the same office or members of the same corporation or religious order: see Commemorated party. • The inscription and/or decoration refer to historical facts, i.e. pilgrimages to the Holy Land.
Memorial monument or floor slab
Function
Grave findings
Additional remarks

Original function
Change in function
Remarks about function
Name
five members of the Utrecht Confraternity of Jerusalem Pilgrims
Specification

Members of the commemorated party
Commemorated person(s)

[1423] Cornelis van Amstel van Mijnden (male)
[1421] Gijsbert Robbertsz. (male)
[1424] Jan Damen (male)
[1422] Steven de Wit Jansz. (male)
[1420] Jan van Dam (male)

Commemorated institution(s)

[926] Jeruzalembroederschap (Palmieten) (Jerusalem Confraternity), Utrecht

Relation between commemorated persons
members of a corporation/confraternity
Relation specification
members of the Utrecht Confraternity of Jerusalem Pilgrims
Additional remarks
Name
member(s) of the Utrecht Confraternity of Jerusalem Pilgrims
Composition of the commissioning party
Specification

Members of the commissioning party
Commissioning person(s)
Commissioning Institution(s)

Relation between commissioning party and commemorated party
The commissioning party consisted of one or more members of the commemorated party
Relation specification
Additional remarks
Material(s)
Specification
oil on oak
Traces of polychromy?
Reuse of older objects

Dimensions (cm)
Height x width x depth
79 x 164 x 0

Completeness
Possibly the original frame
Condition
Conservation
Restorations successively executed by Isaac Willaerts in 1667 (Utrecht), Christiaan Kramm in 1837 (Utrecht) and Alois Hauser in 1899-1902 (Berlin). The latter restorer cradled the painting. The work was last restored in 1955 by J.C. Traas (Leidschendam), who cleaned, inpainted and varnished the panel and removed some of the overpaintings.
Technical research

X-ray
infrared reflectography (IRR)
dating by dendrochronology

Specification (technical research)

Alterations
Alterations
Specification

Additional remarks
Provenance
Provenance
Jerusalem Confraternity, Utrecht (1525/1527-after 1581); municipality of Utrecht; amortized by the municipality (1656); on loan to Genootschap Kunstliefde, Utrecht (1872-1911); Centraal Museum, Utrecht
Marks of ownership
Type(s) of mark(s) of ownership
Specification

Helmus, L.M., Schilderkunst tot 1850. De verzamelingen van het Centraal Museum Utrecht 5 (Utrecht 1999), 1388-1391
Helmus, L.M.; Faries, M.; Tamis, D., Catalogue of Paintings, 1363-1600. Centraal Museum Utrecht (Utrecht 2011), 244-250; cat. no. 29
Holterman, Bart, Representations of Jerusalem pilgrims, http://staticweb.hum.uu.nl/memo/jerusalem/pages/08.shtml
Tongerloo, L. van, Grablegung und Totengedenken bei Pilgerbruderschaften in Utrecht, mit einer Neuinterpretation von Scorels und Mors Bildnisreihen von Jerusalemfahrern, in: Bueren, T. van; Leerdam, Andrea van, Care for the here and the hereafter: memoria, art and ritual in the Middle Ages (Turnhout 2005), 221-247

Other documentation
Additional remarks
Additional remarks
• The portrayed persons went on a pilgrimage to the Holy Land in 1541. • Some inscriptions are written in the first person while others are not, which may imply that the texts were copied from other portraits containing inscriptions. • This panel is part of a series of five panels showing the portraits of Jerusalem Pilgrims, which presumably all were housed in the confraternity's chapel in Utrecht, see also MeMO Memorial Object IDs 669, 670, 671 and 716. In contrast to the other panels of the series, in which almost all of the pilgrims are accompanied by their heraldic shields, this panel shows no heraldry. Whether the portrayed persons simply did not carry heraldic arms or that they did not want to depict their heraldic shields in a painting that was intended for the Jerusalem Chapel, has not been determined.
Single piece (front) of [672] Memorial painting with the portraits of five members of the Utrecht Confraternity of Jerusalem Pilgrims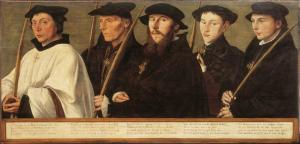 Indication of part
Indication of part
Single piece (front)
Short description
Short description
Portraits of five members of the Utrecht Confraternity of Jerusalem Pilgrims and inscriptions
Dimensions (cm)
Height x Width x Depth
79 x 164 x 0
Date
Year
ca.1544
Specified date
Argumentation

based on stylistic research
based on historical and/or technical research

Specification
after 1541 (year of the pilgrimage(s)); composition and size is similar to MeMO Memorial Object ID 716, which is dated 1544; in 1544 the confraternity moved to a more spacious chapel at the Janskerkhof in Utrecht
Additional remarks
dating by dendrochronology: panel usable from 1534 or 1542
Holding institution
Holding institution
Utrecht, Centraal Museum
Collection
Collection identifier
2376
Online description link
Alternative or previous collections
Alternative of previous identifiers
Accessibility
Remarks about holding institution
Contract
Contract
Artist(s)

Identity
Name
Scorel, Jan van
Attribution

based on historical evidence (in literature)

Specification
document(s)
Assignment
Role
Specification

Additional remarks
Filiation
Filiation
Additional remarks
Additional remarks
Portraits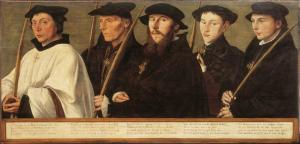 Indication of part
Indication of part
Single piece (front)
Place of the portrait
Place of the portrait
first person from the left
Portrait of
Name
Jan van Dam
Sex
male
Argumentation

based on text(s) on the memorial object

Specification
Portrait — portraiture
Physical state of the portrayed person
alive
Argumentation
Specification
Posture
in half-figure
Manner of portrayal
Portrait — clothing, attributes and insignia

Clothing
Type of clothing
clothes of an ecclesiastical office holder
Short description
alb; dark beret
Attributes
Attributes

(ecclesiastical) vestments

Specification
brown fur almuce hanging over his left forearm
Insignia
Insignia
Specification
palm branch (Jerusalem feather); golden Jerusalem cross sewn on alb
Remarks about clothing

Additional remarks
The portrayed person was a chantry priest of the St. Maartenskerk/Domkerk (St Martin's Church/Dom Church) in Utrecht. He went on a pilgrimage to Jerusalem in 1541.
Indication of part
Indication of part
Single piece (front)
Place of the portrait
Place of the portrait
second person from the left
Portrait of
Name
Gijsbert Robbertsz.
Sex
male
Argumentation

based on text(s) on the memorial object

Specification
Portrait — portraiture
Physical state of the portrayed person
alive
Argumentation
Specification
Posture
in half-figure
Manner of portrayal
Portrait — clothing, attributes and insignia

Clothing
Type of clothing
Short description
dark garment; dark beret
Attributes
Attributes
Specification
Insignia
Insignia
Specification
palm branch (Jerusalem feather); golden Jerusalem cross hanging from a chain/cord
Remarks about clothing

Additional remarks
The portrayed person went on a pilgrimage to Jerusalem in 1541
Indication of part
Indication of part
Single piece (front)
Place of the portrait
Place of the portrait
third person from the left
Portrait of
Name
Steven de Wit Jansz.
Sex
male
Argumentation

based on text(s) on the memorial object

Specification
Portrait — portraiture
Physical state of the portrayed person
alive
Argumentation
Specification
Posture
in half-figure
Manner of portrayal
Portrait — clothing, attributes and insignia

Clothing
Type of clothing
Short description
dark garment; dark beret
Attributes
Attributes
Specification
Insignia
Insignia
Specification
palm branch (Jerusalem feather); golden Jerusalem cross hanging from a chain/cord
Remarks about clothing

Additional remarks
The portrayed person went on a pilgrimage to Jerusalem in 1541
Indication of part
Indication of part
Single piece (front)
Place of the portrait
Place of the portrait
fourth person from the left
Portrait of
Name
Cornelis van Amstel van Mijnden
Sex
male
Argumentation

based on text(s) on the memorial object

Specification
Portrait — portraiture
Physical state of the portrayed person
alive
Argumentation
Specification
Posture
in half-figure
Manner of portrayal
Portrait — clothing, attributes and insignia

Clothing
Type of clothing
Short description
dark cloak of silk and velvet with fur trimming; dark beret
Attributes
Attributes
Specification
Insignia
Insignia
Specification
palm branch (Jerusalem feather); golden Jerusalem cross hanging from a chain/cord (held by the person portrayed)
Remarks about clothing

Additional remarks
The portrayed person went on a pilgrimage to Jerusalem in 1541
Indication of part
Indication of part
Single piece (front)
Place of the portrait
Place of the portrait
fifth person from the left
Portrait of
Name
Jan Damen
Sex
male
Argumentation

based on text(s) on the memorial object

Specification
Portrait — portraiture
Physical state of the portrayed person
alive
Argumentation
Specification
Posture
in half-figure
Manner of portrayal
Portrait — clothing, attributes and insignia

Clothing
Type of clothing
Short description
dark garment; dark beret
Attributes
Attributes
Specification
Insignia
Insignia
Specification
palm branch (Jerusalem feather); golden Jerusalem cross hanging from a chain/cord
Remarks about clothing

Additional remarks
The portrayed person went on a pilgrimage to Jerusalem in 1541
Inscriptions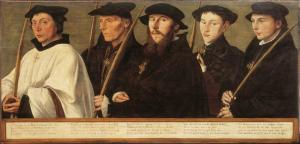 Indication of part
Indication of part
Single piece (front)
Place of the inscription
Place of the inscription
below the first portrait from the left
Language(s)
Languages
Language specification
Transcription
Transcription
Heer Ian van Dam, vicarius then Domme./ Hierusalem sach ic na mijn begeren/ dusent vijfhondert eenenveertich alomme/ screefmen na die geboort ons Heeren.
Translation
English translation
Dutch translation
Lay–out
Lay-out
Inscription mentioning
Name
[1420] Jan van Dam (male)
Sex
male
Argumentation
the person is being commemorated
Additional remarks
Additional remarks
The text is written in rhyme
Indication of part
Indication of part
Single piece (front)
Place of the inscription
Place of the inscription
below the second portrait from the left
Language(s)
Languages
Language specification
Transcription
Transcription
Gijsbert Robbertsz. van Wijck te Duerstede/ was te Ierusalem theilich graf visiteren,/ vijthienhondert screefmen senen veertich mede./ God wil hem namaels in vreden logeren.
Translation
English translation
Dutch translation
Lay–out
Lay-out
Inscription mentioning
Name
[1421] Gijsbert Robbertsz. (male)
Sex
male
Argumentation
the person is being commemorated
Additional remarks
Additional remarks
The text is written in rhyme and includes a prayer for the commemorated person
Indication of part
Indication of part
Single piece (front)
Place of the inscription
Place of the inscription
below the third portrait from the left
Language(s)
Languages
Language specification
Transcription
Transcription
Steven die Wit was te Hierusalem binnen/ alsmen dusent vijfhondert eenenveertich telde/ na goods geboort, om duecht te winnen/ twair goet dat hem ijchelick tot beteren stelde.
Translation
English translation
Dutch translation
Lay–out
Lay-out
Inscription mentioning
Name
[1422] Steven de Wit Jansz. (male)
Sex
male
Argumentation
the person is being commemorated
Additional remarks
Additional remarks
The text is written in rhyme
Indication of part
Indication of part
Single piece (front)
Place of the inscription
Place of the inscription
below the fourth portrait from the left
Language(s)
Languages
Language specification
Transcription
Transcription
Van Aemstel van Mijnden heer tot Ruweel/ bin ic Cornelis, ionc van iaren./ Te Ierusalem was ic, God hebs deel/ int iair eenenveertich bi wairheits verclaren.
Translation
English translation
Dutch translation
Lay–out
Lay-out
Inscription mentioning
Name
[1423] Cornelis van Amstel van Mijnden (male)
Sex
male
Argumentation
the person is being commemorated
Additional remarks
Additional remarks
The text is written in rhyme
Indication of part
Indication of part
Single piece (front)
Place of the inscription
Place of the inscription
below the fifth portrait from the left
Language(s)
Languages
Language specification
Transcription
Transcription
Ian Damen was oock ten Heiligen Lande/ int iaer eenenveertich om dair vermonden./ God wil ons bewaren voir scade voir scande/ ende namaels vergeven ons al onse sonden.
Translation
English translation
Dutch translation
Lay–out
Lay-out
Inscription mentioning
Name
[1424] Jan Damen (male)
Sex
male
Argumentation
the person is being commemorated
Additional remarks
Additional remarks
The text is written in rhyme and includes a prayer for the commemorated person
Person Description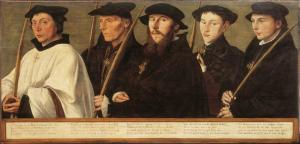 Personal identification number
Personal identification number
1420
Personal details
Name
Jan van Dam
Sex
male
Year/date of birth
Year/date of death
1568
Additional remarks
He went on a pilgrimage to the Holy Land in 1541.
Social standing
Status
secular clergy
Arguments

clothing of the portrayed person
mentioned in the inscription

Specification
Member of a convent
Religious order
Specification
Member of secular clergy
Type of secular clergy
(parish or chantry) priest
Specification
chantry priest of the St. Maartenskerk/Domkerk (St Martin's Church/Dom Church) in Utrecht; member of the Utrecht's priests' brotherhood and later treasurer of this brotherhood
Additional remarks
Additional remarks
Personal identification number
Personal identification number
1421
Personal details
Name
Gijsbert Robbertsz.
Sex
male
Year/date of birth
Year/date of death
1557
Additional remarks
He originated from Wijk bij Duurstede. He went on a pilgrimage to the Holy Land in 1541.
Social standing
Status
patriciate
Arguments
Specification
alderman of Wijk bij Duurstede (1539, 1542 and 1546)
Member of a convent
Religious order
Specification
Member of secular clergy
Type of secular clergy
Specification
Additional remarks
Additional remarks
Personal identification number
Personal identification number
1422
Personal details
Name
Steven de Wit Jansz.
Sex
male
Year/date of birth
Year/date of death
1571/06/05
Additional remarks
Also known as Steven de Witt. Son of Jan de Wit Stevensz and Christina Zas. Steven was married to 1) Cornelia Henricksdr van Zuilen van Amerongen, and 2) Machteld Foock/Foeck. He went on a pilgrimage to the Holy Land in 1541, also visiting Mount Sinai, Loreto, Naples and Rome. Steven was a captain under Margaret of Parma/Austria, regent of the Netherlands. In 1567 he defeated the troops of Brederode (Beggars) in Vianen/Vreeswijk and captured their captain Jan van Renesse. As as result, Steven was knighted by Philip II, King of Spain. An honorary coin and painting, both commemorating Steven's victory, were probably commissioned by his son Johan in the first quarter of the 17th century. The painting is part of the collection of the Centraal Museum, Utrecht.
Social standing
Status
patriciate
Arguments
Specification
liegeman for the city of Utrecht (1539); captain; bailiff ('drossaard') of the city and land of Vianen (after 1567)
Member of a convent
Religious order
Specification
Member of secular clergy
Type of secular clergy
Specification
Additional remarks
Additional remarks
See for the floor slab of Steven de Wit and family: MeMO Memorial object ID 3945 with the insigna of his pilgrimages
Personal identification number
Personal identification number
1423
Personal details
Name
Cornelis van Amstel van Mijnden
Sex
male
Year/date of birth
Year/date of death
1564
Additional remarks
He went on a pilgrimage to the Holy Land in 1541.
Social standing
Status
nobility
Arguments

mentioned in the inscription

Specification
Lord of Ruweel
Member of a convent
Religious order
Specification
Member of secular clergy
Type of secular clergy
Specification
Additional remarks
Additional remarks
Personal identification number
Personal identification number
1424
Personal details
Name
Jan Damen
Sex
male
Year/date of birth
Year/date of death
1569-1570
Additional remarks
He went on a pilgrimage to the Holy Land in 1541.
Social standing
Status
Arguments
Specification
Member of a convent
Religious order
Specification
Member of secular clergy
Type of secular clergy
Specification
Additional remarks
Additional remarks