Description - Memorial Object
Memorial painting with the Crucifixion and the devotional portrait of Hendrik van Rijn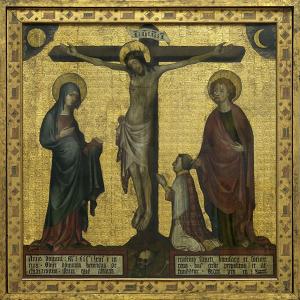 MeMO memorial object ID and name
MeMO memorial object ID
704
Name
Memorial painting with the Crucifixion and the devotional portrait of Hendrik van Rijn
Holding institution(s)
Holding institution(s)

Antwerp, Koninklijk Museum voor Schone Kunsten (Royal Museum of Fine Arts)

Category
Type
Memorial item (physical object)
Classification
Single piece (painting)
Short description
Painting showing the Crucifixion with devotional portrait, inscription and saints
Remarks about category
Single piece: no separation between portrait(s) - main image
General date
General date
1350-1375
Artist(s)
Artist(s)

Utrecht area, artist from the

Original institution(s)

| | |
| --- | --- |
| Original institution | [20] St. Janskerk (St John's Church), Utrecht |
| Arguments | based on research (literature, archival or archaeological research) |
| Specification | The portrayed person was canon, provost and archdeacon at this church |

Still in original institution?
no

Location inside the institution
In situ?
(Probable) original location
Argumentation
inscription
Related memorial objects in the same institution
Additional remarks (original location)

Additional remarks
The inscription informs the viewer that Hendrik van Rijn was the "founder of this altar" ("istius que altaris fundator"). According to Renger (1993), the altarpiece was placed on an altar which was dedicated to the Holy Virgin and the Holy Cross.

Memorial piece
Function

didactic
liturgical/religious
historical
political

Specification
Additional remarks
• The painting functioned as an altarpiece. • Decorations with a didactic statement, usually with references to the mortality of mankind / variations on 'Remember that you will die', i.e. the prominently placed skull and bones under the crucified Christ. • The decoration of the gilded background may hint at a political function, see Additional remarks at the bottom of this page. The inscription refers to a historical fact, i.e. the foundation of an altar.
Memorial monument or floor slab
Function
Grave findings
Additional remarks

Original function
Change in function
Remarks about function
Name
Henricus de Reno (Hendrik van Rijn)
Specification

Members of the commemorated party
Commemorated person(s)

[1541] Henricus de Reno (Hendrik van Rijn) (male)

Commemorated institution(s)

Relation between commemorated persons
not applicable (only one person mentioned/depicted)
Relation specification
Additional remarks
Name
Henricus de Reno (Hendrik van Rijn)
Composition of the commissioning party
Specification
The memorial painting was most likely a donation as part of the foundation of the altar, which is mentioned in the inscription

Members of the commissioning party
Commissioning person(s)

[1541] Henricus de Reno (Hendrik van Rijn) (male)

Commissioning Institution(s)

Relation between commissioning party and commemorated party
The commissioning party was the commemorated party
Relation specification
Additional remarks
Material(s)
Specification
tempera and gilt on panel
Traces of polychromy?
Reuse of older objects

Dimensions (cm)
Height x width x depth
133 x 130 x 0

Completeness
Possibly (partly) original frame
Condition
Conservation
Only two restorations recorded, which were executed in 1893 and 2008-2009
Technical research
Specification (technical research)

Alterations
Alterations
Specification

Additional remarks
Provenance
Provenance
F.J. van Ertborn, Antwerp; bequeathed to the Koninklijk Museum voor Schone Kunsten, Antwerp (1841); on loan to the Centraal Museum, Utrecht (since 2009)
Marks of ownership
Type(s) of mark(s) of ownership
Specification

Bueren, T. van, Leven na de dood: gedenken in de late Middeleeuwen (Turnhout 1999), 81
Helmus, L.M., Schilderen in opdracht. Noord-Nederlandse contracten voor altaarstukken 1485-1570 (Utrecht 2010), 43-44
Helmus, L.M.; Faries, M.; Tamis, D., Catalogue of Paintings, 1363-1600. Centraal Museum Utrecht (Utrecht 2011), 309-312; no. 41
Renger, M.O., The Calvary of Hendrik van Rijn, Jaarboek Koninklijk Museum voor Schone Kunsten Antwerpen (1993), 9-45
Vandamme, E., Catalogus schilderkunst oude meesters: Koninklijk Museum voor Schone Kunsten Antwerpen, departement Oude Meesters (Antwerp 1988), 444

Other documentation
Additional remarks
Additional remarks
The rampant lions that are punched into the gilded background and are depicted in the dalmatic of the portrayed person, are charges of the coat of arms of the Van Rijn family. In the 14th century the Van Rijn family probably replaced its original coat of arms with a coat of arms comprising three rampant lions, as a pledge of loyalty to the Counts of Holland (see Van Bueren 1999, p. 81).
Single piece (front) of [704] Memorial painting with the Crucifixion and the devotional portrait of Hendrik van Rijn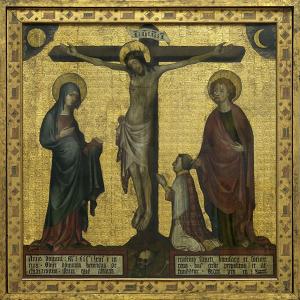 Indication of part
Indication of part
Single piece (front)
Short description
Short description
Crucifixion with devotional portrait of Hendrik van Rijn, inscription, the Virgin and St John the Evangelist
Dimensions (cm)
Height x Width x Depth
133 x 130 x 0
Date
Year
ca.1363
Specified date
Argumentation

date of death given on the object

Specification
year of death of Hendrik van Rijn
Additional remarks
Holding institution
Holding institution
Antwerp, Koninklijk Museum voor Schone Kunsten (Royal Museum of Fine Arts)
Collection
Collection identifier
519
Online description link
Alternative or previous collections
Alternative of previous identifiers
Accessibility
Remarks about holding institution
Contract
Contract
Artist(s)

Identity
Name
Utrecht area, artist from the
Attribution

based on historical evidence (in literature)

Specification
origin of work
Assignment
Role
Specification

Additional remarks
Filiation
Filiation
Additional remarks
Additional remarks
Portraits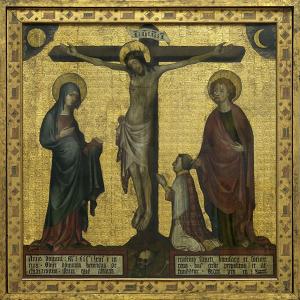 Indication of part
Indication of part
Single piece (front)
Place of the portrait
Place of the portrait
to the right of the cross
Portrait of
Name
Henricus de Reno (Hendrik van Rijn)
Sex
male
Argumentation

based on text(s) on the memorial object

Specification
Portrait — portraiture
Physical state of the portrayed person
alive
Argumentation
Specification
Posture
kneeling
Manner of portrayal
folded hands
Portrait — clothing, attributes and insignia

Clothing
Type of clothing
clothes of an ecclesiastical office holder
Short description
alb worn under a red dalmatic displaying rampant lions (charges of the coat of arms of the Van Rijn family)
Attributes
Attributes

(ecclesiastical) vestments

Specification
ermine almuce over his left shoulder
Insignia
Insignia
Specification
Remarks about clothing

Additional remarks
The portrayed person was canon, archdeacon and provost of the Utrecht St. Janskerk (St John's Church)
Inscriptions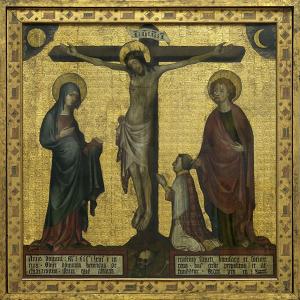 Indication of part
Indication of part
Single piece (front)
Place of the inscription
Place of the inscription
text fields at the bottom of the painting, flanking the skull
Language(s)
Languages
Language specification
Transcription
Transcription
Anno Domini Mo CCCo LXIIIo in crastino Sancti Bonifacii et sociorum eius obiit dominus Henricus de Reno, huius ecclesie prepositus et archidiaconus istiusque altaris fundator. Orate pro eo.
Translation
English translation
In the year of the Lord 1363 on the morrow of St Boniface and his companions, sir Hendrik van Rijn died, provost and archdeacon of this church and founder of this altar. Pray for him.
Dutch translation
In het jaar des Heren 1363 daags na St. Bonifatius en diens lotgenoten, stierf heer Hendrik van Rijn, proost en aartsdiaken van deze kerk en stichter van dit altaar. Bidt voor hem.
Lay–out
Lay-out
Gothic textualis
Inscription mentioning
Name
[1541] Henricus de Reno (Hendrik van Rijn) (male)
Sex
male
Argumentation
the person is being commemorated
Additional remarks
Additional remarks
Memorial text including an appeal to the viewer for prayer for the commemorated person(s)
Saint Portraits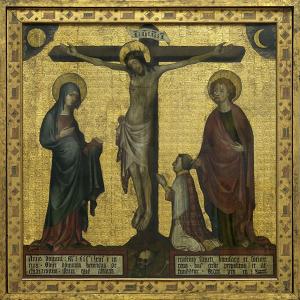 Indication of the part
Indication of the part
Single piece (front)
Place of the portrait
Place of the portrait
First saint from the right
Specification of saint
Name
John the Evangelist
Sex
male
Type of saint

standard saint (e.g. Mary, John the Evangelist)

Specification
St John the Evangelist and the Virgin are part of the standard iconography of the Crucifixion. Here, St John the Evangelist also acts as the patron saint of the portrayed person, as can be deduced from the saint's hand gesture.
Attributes
Specification
Gesture

hand on the head of a commemorated person

Specification
Posture
standing
Specification
Additional remarks
Additional remarks
Person Description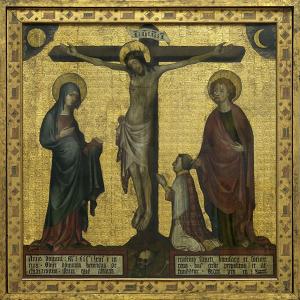 Personal identification number
Personal identification number
1541
Personal details
Name
Henricus de Reno (Hendrik van Rijn)
Sex
male
Year/date of birth
Year/date of death
1363/05/13
Additional remarks
Born after 1299 as son of Ghisebrecht Gunter and Hillegond van Rijn. Van Rijn - who was a follower of count Willem IV - was banished from Utrecht on 29 June 1346, after the death of the count. He was allowed to return to the city ten years later. Van Rijn founded an altar at the Janskerk (St John's Church) in Utrecht.
Social standing
Status
secular clergy
Arguments
Specification
Member of a convent
Religious order
Specification
Member of secular clergy
Type of secular clergy
canon
Specification
canon (1320), archdeacon and provost (1344) of the Utrecht St. Janskerk (St John's Church); appointed as priest of Eembrugge by Walram van Gulik, bishop of Cologne, in 1333
Additional remarks
Additional remarks