Description - Memorial Object
Floor slab of Arend (Arnold) Bokelaer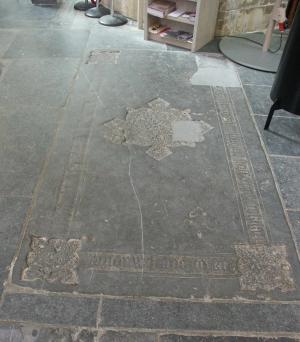 MeMO memorial object ID and name
MeMO memorial object ID
74
Name
Floor slab of Arend (Arnold) Bokelaer
Holding institution(s)
Holding institution(s)

Utrecht, Domkerk (St. Maartenskerk)

Category
Type
Tomb monument, tomb slab or floor slab (physical object)
Classification
Tomb slab or floor slab
Short description
Stone slab with a worn inscription along the edge and the indents of removed brasses in the centre and corners
Remarks about category
General date
General date
1500-1550
Artist(s)
Artist(s)
Original institution(s)
Still in original institution?
yes

Location inside the institution
In situ?
yes
(Probable) original location

near another memorial object for the commemorated person(s) or relatives
near an altar
in the transept

Argumentation
Related memorial objects in the same institution
Additional remarks (original location)

Additional remarks
The slab has always been located on the west side of the south transept, next to a pillar inscription which commemorates the foundation of a daily Mass by Arend Bokelaer. The altar of St Peter was located opposite the pillar and grave.

Memorial piece
Function
Specification
Additional remarks
Memorial monument or floor slab
Function
liturgical/religious
Grave findings
Additional remarks

Original function
Change in function
Remarks about function
Name
Arend (Arnold) Bokelaer
Specification

Members of the commemorated party
Commemorated person(s)

[48] Arend (Arnold) Bokelaer (male)

Commemorated institution(s)

Relation between commemorated persons
not applicable (only one person mentioned/depicted)
Relation specification
Additional remarks
Name
Composition of the commissioning party
Specification

Members of the commissioning party
Commissioning person(s)
Commissioning Institution(s)

Relation between commissioning party and commemorated party
Relation specification
Additional remarks
Material(s)

brass (copper alloy)
stone

Specification
blue limestone; brass lost
Traces of polychromy?
Reuse of older objects

Dimensions (cm)
Height x width x depth
275 x 145 x 0

Completeness
Incomplete: the slab was originally inlaid with five engraved brass plates which showed heraldry
Condition
In poor condition. The slab is badly worn; the inscription is partly illegible.
Conservation
Technical research
Specification (technical research)

Alterations
Alterations
Specification

Additional remarks
Provenance
Provenance
Marks of ownership
Type(s) of mark(s) of ownership
Specification

Bloys van Treslong Prins, P.C., Genealogische en heraldische gedenkwaardigheden in en uit de provincie Utrecht (Utrecht 1919), 207; no. 51
Borst, P., et al., Graven en begraven in de Dom van Utrecht (Bunnik 1997), 53; no. 5
Buchelius, A., Monumenta passim in templis ac monasteriis Traiectinae urbis atque agri inventa (Utrecht ), 35; fol. 20r
Groot, A. de, De Dom van Utrecht in de zestiende eeuw. Inrichting, decoratie en gebruik van de katholieke kathedraal (Amsterdam 2011), 83, 128, 289, 342, 405; no. 74
Haslinghuis, E.J.; Peeters, C.J.A.C., De Nederlandse monumenten van geschiedenis en kunst II. De provincie Utrecht, 1e stuk: De gemeente Utrecht, afl. 2: de Dom van Utrecht (The Hague 1965), 399; no. 5

Other documentation
SKKN: inv. no. 967-70, photo no. 967-70_1
Additional remarks
Additional remarks
The text on the adjacent pillar stipulates that a daily Mass was to be celebrated at the altar of St Peter, opposite the pillar and the grave of Arend Bokelaer. The altar was also known as the 'Bokelearsaltaar' (altar of Bokelaer) in the 16th century.
Tomb or floor slab (front) of [74] Floor slab of Arend (Arnold) Bokelaer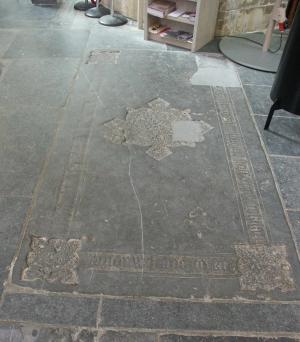 Indication of part
Indication of part
Tomb or floor slab (front)
Short description
Short description
Stone slab with a worn inscription along the edge and the indents of removed brasses in the centre and corners
Dimensions (cm)
Height x Width x Depth
275 x 145 x 0
Date
Year
1522
Specified date
1522/11/22
Argumentation

date of death (from other sources)

Specification
date of death mentioned in literature
Additional remarks
Holding institution
Holding institution
Utrecht, Domkerk (St. Maartenskerk)
Collection
Collection identifier
Online description link
Alternative or previous collections
Alternative of previous identifiers
Accessibility
Remarks about holding institution
The slab is located in the west side of the south transept
Contract
Contract
Artist(s)
Filiation
Filiation
Additional remarks
Additional remarks
Inscriptions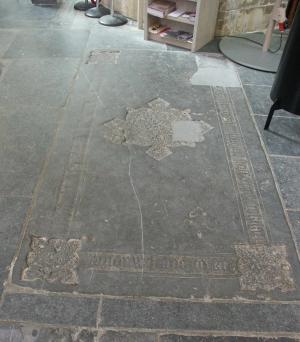 Indication of part
Indication of part
Tomb or floor slab (front)
Place of the inscription
Place of the inscription
along all four edges of the slab
Language(s)
Languages
Language specification
Transcription
Transcription
[...] [o]pte[n] XXII dach va[n] november sterft Aernt Bokelair va[n] Dordrecht, Canonick deser kercken [ende pastoer van Wassenaer(?); bidt voer die ziel].
Translation
English translation
[...] on the 22nd day of November died Arend Bokelaer of/from Dordrecht, canon at this church and parish priest of Wassenaar(?); pray for the soul.
Dutch translation
Lay–out
Lay-out
Gothic textualis
Inscription mentioning
Name
[48] Arend (Arnold) Bokelaer (male)
Sex
male
Argumentation
the person is being commemorated
Additional remarks
Additional remarks
The inscription along the top and left-hand side of the slab is illegible
Person Description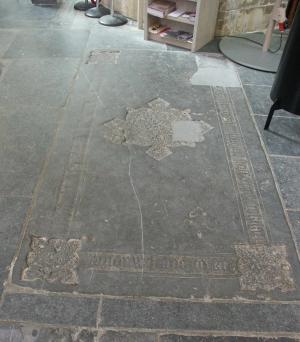 Personal identification number
Personal identification number
48
Personal details
Name
Arend (Arnold) Bokelaer
Sex
male
Year/date of birth
Year/date of death
1522/11/22
Additional remarks
He may have originated from Dordrecht
Social standing
Status
secular clergy
Arguments

mentioned in the inscription

Specification
Member of a convent
Religious order
Specification
Member of secular clergy
Type of secular clergy
canon
Specification
canon at the St. Maartenskerk/Domkerk (St Martin's Church/Dom Church) in Utrecht from 22 September 1487; parish priest of the Buurkerk in Utrecht (1499-1522); parish priest in Wassenaar?
Additional remarks
Additional remarks
He founded a daily Mass at the altar of St Peter in the St. Maartenskerk/Domkerk in Utrecht