Description - Memorial Object
Floor slab of Johan de Gruyter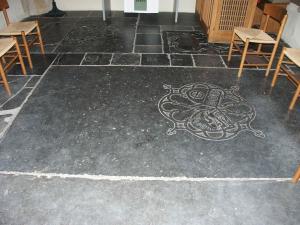 MeMO memorial object ID and name
MeMO memorial object ID
81
Name
Floor slab of Johan de Gruyter
Holding institution(s)
Holding institution(s)

Utrecht, Domkerk (St. Maartenskerk)

Category
Type
Tomb monument, tomb slab or floor slab (physical object)
Classification
Tomb slab or floor slab
Short description
Large stone slab with a quatrefoil in which trefoils and two heraldic shields suspended from tracery by guiges
Remarks about category
General date
General date
1475-1525
Artist(s)
Artist(s)
Original institution(s)
Still in original institution?
yes

Location inside the institution
In situ?
yes
(Probable) original location
Argumentation
In 1468, Johan de Gruyter arranged to be buried in the 'kapel van Van Diepholt' (chapel of Van Diepholt)
Related memorial objects in the same institution
Additional remarks (original location)

Additional remarks

Memorial piece
Function
Specification
Additional remarks
Memorial monument or floor slab
Function
liturgical/religious
Grave findings
Objects found during the 1922-25 restoration of the Van Diepholt burial vault: a fragment (ca. 1 metre) of a crosier, a gold ring with a blue cut stone and a bishop's mitre of silk damask with a silver border (now in the Centraal Museum, Utrecht).
Additional remarks

Original function
Change in function
Remarks about function
Name
Johan de Gruyter
Specification

Members of the commemorated party
Commemorated person(s)

[3346] Johan de Gruyter (male)

Commemorated institution(s)

Relation between commemorated persons
not applicable (only one person mentioned/depicted)
Relation specification
Additional remarks
argument for identification of the commemorated party: the slab shows the allied arms of Johan de Gruyter's parents
Name
Composition of the commissioning party
Specification

Members of the commissioning party
Commissioning person(s)
Commissioning Institution(s)

Relation between commissioning party and commemorated party
Relation specification
Additional remarks
Material(s)
Specification
blue limestone
Traces of polychromy?
Reuse of older objects

Dimensions (cm)
Height x width x depth
304 x 172 x 0

Completeness
Complete
Condition
In overall good condition. The slab may never have contained an inscription: Buchelius does not make mention of one.
Conservation
Technical research
Specification (technical research)

Alterations
Alterations
Specification

Additional remarks
Provenance
Provenance
Marks of ownership
Type(s) of mark(s) of ownership
Specification

Borst, P., et al., Graven en begraven in de Dom van Utrecht (Bunnik 1997), 63; no. 14
Buchelius, A., Monumenta passim in templis ac monasteriis Traiectinae urbis atque agri inventa (Utrecht ), 28; fol. 16v
Groot, A. de, De Dom van Utrecht in de zestiende eeuw. Inrichting, decoratie en gebruik van de katholieke kathedraal (Amsterdam 2011), 281, 341; no. 27
Haslinghuis, E.J.; Peeters, C.J.A.C., De Nederlandse Monumenten van Geschiedenis en Kunst, dl. II, De provincie Utrecht, Eerste stuk, De gemeente Utrecht, Tweede aflevering, De Dom van Utrecht ('s-Gravenhage 1965), 382; no. 59
Muller Fz., S., De beelden der graftombe van bisschop Rudolf van Diepholt, De Nederlandsche Musea 1 (1916), , 3

Other documentation
SKKN: inv. no. 967-66, photo no. 967-66_1; Het Utrechts Archief: cat. no. 82861
Additional remarks
Additional remarks
In 1468, Johan de Gruyter arranged to be buried in the chapel of Van Diepholt. Bishop Rudolf van Diepholt (1377-1455) was the grandfather of Johan de Gruyter. The chapel originally housed the tomb of the bishop, which is missing since the 17th century.
Tomb or floor slab (front) of [81] Floor slab of Johan de Gruyter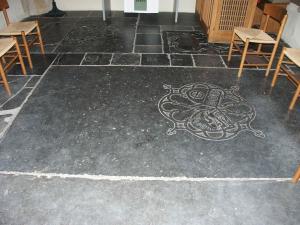 Indication of part
Indication of part
Tomb or floor slab (front)
Short description
Short description
Large stone slab with a quatrefoil in which trefoils and two heraldic shields suspended from tracery by guiges
Dimensions (cm)
Height x Width x Depth
304 x 172 x 0
Date
Year
1499
Specified date
Argumentation

date of death (from other sources)

Specification
date of death as mentioned in literature
Additional remarks
Holding institution
Holding institution
Utrecht, Domkerk (St. Maartenskerk)
Collection
Collection identifier
Online description link
Alternative or previous collections
Alternative of previous identifiers
Accessibility
Remarks about holding institution
The slab is located in the 'kapel van Van Diepholt' (chapel of Van Diepholt), currently also known as the 'Dagkapel'
Contract
Contract
Artist(s)
Filiation
Filiation
Additional remarks
Additional remarks
Heraldry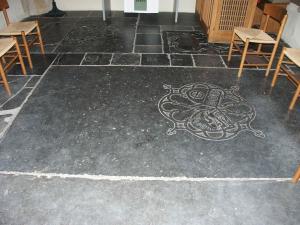 Indication of part
Indication of part
Tomb or floor slab (front)
Place of heraldry
Place of heraldry
inside the quatrefoil, on the left
Specification of heraldry
Type of heraldry
Allied arms (2 coats of arms in 2 shields, respecting each other)
Specification
Shape of the shield
High gothic shield
Specification
Description of the shield
a buckle, in a chief three roses in fess (een gesp, in een schildhoofd drie rozen naast elkaar)
Description of the upper arms (helmet, crest and mantling)
Remarks
Additional parts of the achievement
Type of supporter

Other (guige or band, tree, branch)

Specification
Suspended from tracery by guiges
Motto
English translation of the motto
Insignia or attributes
Heraldry belonging to
Heraldry belonging to
De Gruyter

Person details
Person details

Additional remarks
Additional remarks
Indication of part
Indication of part
Tomb or floor slab (front)
Place of heraldry
Place of heraldry
inside the quatrefoil, on the right
Specification of heraldry
Type of heraldry
Allied arms (2 coats of arms in 2 shields, respecting each other)
Specification
Shape of the shield
High gothic shield
Specification
Description of the shield
an eagle displayed and in chief a crowned lion passant guardant (een adelaar, boven vergezeld van een gekroonde, gaande en aanziende leeuw)
Description of the upper arms (helmet, crest and mantling)
Remarks
Additional parts of the achievement
Type of supporter

Other (guige or band, tree, branch)

Specification
Suspended from tracery by guiges
Motto
English translation of the motto
Insignia or attributes
Heraldry belonging to
Heraldry belonging to
Van Diepholt

Person details
Person details

Additional remarks
Additional remarks
Decorations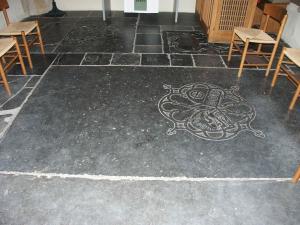 Indication of part
Indication of the part
Tomb or floor slab (front)
Type(s) of decoration(s)
Type(s) of decoration(s)

geometric patterns
flowers/plants

Description of the decoration(s)
Description of the decoration(s)
quatrefoil decorated with trefoils and tracery
Depicted allegories
Depicted allegories
Additional remarks
Additional remarks
Person Description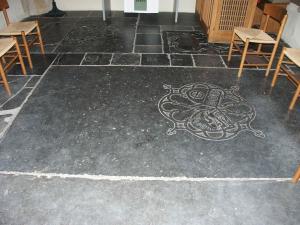 Personal identification number
Personal identification number
3346
Personal details
Name
Johan de Gruyter
Sex
male
Year/date of birth
Year/date of death
1499/09/15
Additional remarks
Son of Gijsbert de Gruyter and Anna van Diepholt, who was the legitimate daughter of bishop Rudolf van Diepholt. His parents were buried in the Buurkerk in Utrecht.
Social standing
Status
secular clergy
Arguments
Specification
Member of a convent
Religious order
Specification
Member of secular clergy
Type of secular clergy
canon
Specification
canon at the St. Maartenskerk/Domkerk (St Martin's Church/Dom Church) in Utrecht
Additional remarks
Additional remarks