Description - Memorial Object
Wall memorial of Cornelis van Meckeren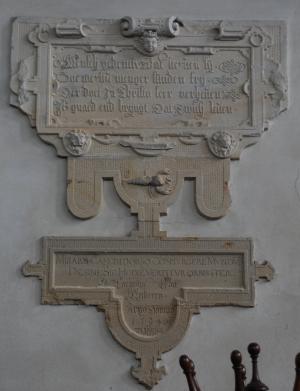 MeMO memorial object ID and name
MeMO memorial object ID
868
Name
Wall memorial of Cornelis van Meckeren
Holding institution(s)
Holding institution(s)

Zwolle, Grote of St. Michaëlskerk

Category
Type
Memorial item (physical object)
Classification
Wall memorial
Short description
Wall memorial with two inscriptions and decorations
Remarks about category
General date
General date
1575-1600
Artist(s)
Artist(s)
Original institution(s)
Still in original institution?
yes

Location inside the institution
In situ?
yes
(Probable) original location
Argumentation
Related memorial objects in the same institution
Additional remarks (original location)

Additional remarks
Located on a wall in the north aisle

Memorial piece
Function

didactic
liturgical/religious

Specification
Additional remarks
Memorial monument or floor slab
Function
Grave findings
Additional remarks
Inscription and/or decoration with a didactic statement, usually with references to the mortality of mankind/variations on 'Remember that you will die'

Original function
Change in function
Remarks about function
Name
Cornelis van Meckeren
Specification

Members of the commemorated party
Commemorated person(s)

[4056] Cornelis van Meckeren (male)

Commemorated institution(s)

Relation between commemorated persons
not applicable (only one person mentioned/depicted)
Relation specification
Additional remarks
Name
Composition of the commissioning party
Specification

Members of the commissioning party
Commissioning person(s)
Commissioning Institution(s)

Relation between commissioning party and commemorated party
Relation specification
Additional remarks
Material(s)
Specification
Traces of polychromy?
Reuse of older objects

Dimensions (cm)
Height x width x depth

Completeness
Condition
Damaged
Conservation
Technical research
Specification (technical research)

Alterations
Alterations
Specification

Additional remarks
Provenance
Provenance
The wall memorial has been in the church of old
Marks of ownership
Type(s) of mark(s) of ownership
Specification

Vrielink, H., Graven en begraven in Zwolle, http://www.levendestadsgeschiedeniszwolle.nl/Vangravenenbegraafplaatsen.htm

Other documentation
Additional remarks
Additional remarks
Wall memorial of [868] Wall memorial of Cornelis van Meckeren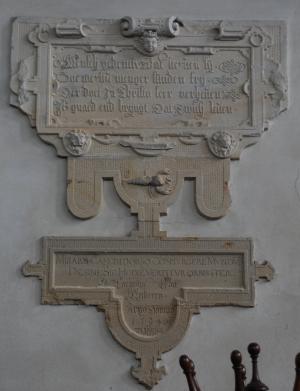 Indication of part
Indication of part
Wall memorial
Short description
Short description
Wall memorial with two inscriptions and decorations
Dimensions (cm)
Height x Width x Depth
Date
Year
1584
Specified date
1584/02/21
Argumentation

date of death given on the object

Specification
Additional remarks
Holding institution
Holding institution
Zwolle, Grote of St. Michaëlskerk
Collection
Collection identifier
Online description link
Alternative or previous collections
Alternative of previous identifiers
Accessibility
Remarks about holding institution
The memorial is located on a wall in the north aisle
Contract
Contract
Artist(s)
Filiation
Filiation
Additional remarks
Additional remarks
Inscriptions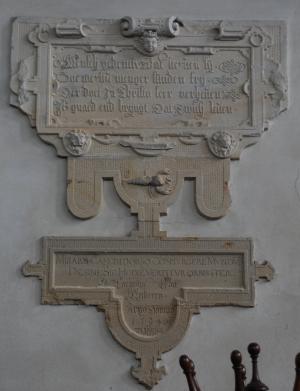 Indication of part
Indication of part
Wall memorial
Place of the inscription
Place of the inscription
bottom cartouche
Language(s)
Languages
Language specification
Transcription
Transcription
Miraris cancri dorso consurgere mundum? / Desine: sic hodie vertitur orbis iter. / Cornelys van Meckeren Anno Domini 1584 den 21 februarius.
Translation
English translation
Are you surprised to see the world on the lobster's back? Refrain: thus turns the way of the world nowadays. Cornelis van Meckeren in the year of the Lord 1584 on the 21st of February.
Dutch translation
Gij verwondert er u over dat de wereld op de rug van een kreeft staat? Houd op: zo wordt heden de weg van de wereld omgekeerd. Cornelis van Meckeren in het jaar des Heren 1584 op de 21ste februari.
Lay–out
Lay-out
Roman majuscules
Inscription mentioning
Name
[4056] Cornelis van Meckeren (male)
Sex
male
Argumentation
the person is being commemorated
Additional remarks
Additional remarks
The first two lines form a distich. The lobster that is depicted between the two texts originally carried a globe on his back; the globe is lost.
Indication of part
Indication of part
Wall memorial
Place of the inscription
Place of the inscription
top cartouche
Language(s)
Languages
Language specification
Transcription
Transcription
O Mensch gedenck Wat sterven sij/ Soe werstu menger sunden frij/ Der doet in Christo seer vergeven/ Isz gnaed end bryngt dat ewich leven.
Translation
English translation
Dutch translation
Lay–out
Lay-out
Gothic textualis
Inscription mentioning
Additional remarks
Additional remarks
The text is written in rhyme
Decorations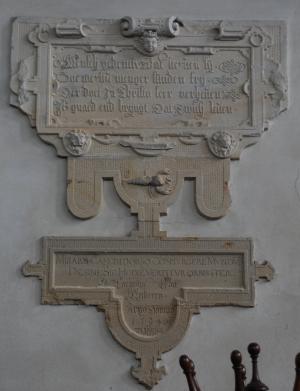 Indication of part
Indication of the part
Wall memorial
Type(s) of decoration(s)
Type(s) of decoration(s)

animals (pets/other)
scrollwork and/or strapwork
angels, putti or cherubs

Description of the decoration(s)
Description of the decoration(s)
strapwork cartouches; lobster; lion heads; angel head
Depicted allegories
Depicted allegories
Additional remarks
Additional remarks
Person Description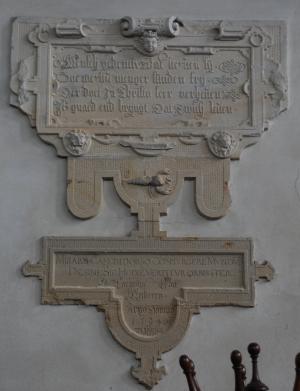 Personal identification number
Personal identification number
4056
Personal details
Name
Cornelis van Meckeren
Sex
male
Year/date of birth
Year/date of death
1584/02/21
Additional remarks
Social standing
Status
Arguments
Specification
Member of a convent
Religious order
Specification
Member of secular clergy
Type of secular clergy
Specification
Additional remarks
Additional remarks