Description - Memorial Object
Floor slab of Vaes Nuellens, Elysabet Nuellens and her offspring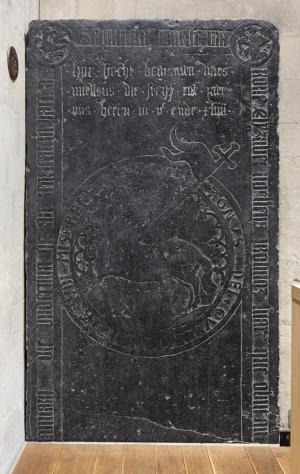 MeMO memorial object ID and name
MeMO memorial object ID
2213
Name
Floor slab of Vaes Nuellens, Elysabet Nuellens and her offspring
Holding institution(s)
Holding institution(s)

Maastricht, Kruisherenhotel (former monastery of Crutched Friars)

Category
Type
Tomb monument, tomb slab or floor slab (physical object)
Classification
Tomb slab or floor slab
Short description
Stone slab with a centrally placed medallion in which the Agnus Dei (Lamb of God) and a circular inscription, an inscription above, an inscription along the edge and medallions with the evangelist symbols in the corners
Remarks about category
General date
General date
1500-1550
Artist(s)
Artist(s)
Original institution(s)

Original institution
[367] Kruisheren (Monastery of Crutched friars), Maastricht
Arguments

the memorial object is still in the original institution
based on research (literature, archival or archaeological research)

Specification
A Servatius Noellens is mentioned in the necrology of the monastery

Still in original institution?
probably yes

Location inside the institution
In situ?
no
(Probable) original location
Argumentation
Related memorial objects in the same institution
Additional remarks (original location)

Additional remarks

Memorial piece
Function
Specification
Additional remarks
Memorial monument or floor slab
Function
liturgical/religious and social
Grave findings
Additional remarks
Commemorated on the object are a married couple, (members of) a nuclear family or (members of) an extended family: see Commemorated party

Original function
Change in function
Remarks about function
Name
Vaes Nuellens, Elysabet Nuellens and her offspring
Specification

Members of the commemorated party
Commemorated person(s)

[4501] Vaes Nuellens (male)
[4500] Elysabet Nuellens (female)

Commemorated institution(s)

Relation between commemorated persons
nuclear or extended family, exact relation unknown
Relation specification
The exact relation between Vaes and Elysabet is unclear. The necrology of the monastery commemorates a married couple by the name of Servatius and Marie Noellens. If Vaes Nuellens is indeed the same person as Servatius Noellens, it is less likely that a married couple is commemorated on the slab, unless he married twice. Vaes and Elysabet may well have been family members.
Additional remarks
Name
Composition of the commissioning party
Specification

Members of the commissioning party
Commissioning person(s)
Commissioning Institution(s)

Relation between commissioning party and commemorated party
Relation specification
Additional remarks
Material(s)
Specification
blue limestone
Traces of polychromy?
Reuse of older objects

Dimensions (cm)
Height x width x depth
200 x 110 x 0

Completeness
Unclear whether the slab has been cut down at the bottom, or whether the bottom is hidden
Condition
The slab is worn in the centre. The lower section shows a crack.
Conservation
Technical research
Specification (technical research)

Alterations
Alterations
Specification

Additional remarks
Provenance
Provenance
Marks of ownership
Type(s) of mark(s) of ownership
Specification

Belonje, J., Genealogische en heraldische gedenkwaardigheden in en uit de kerken der provincie Limburg, Publications de la Société Historique et Archéologique dans le Limbourg 96-97 (1960), , 173; no. 3
Keyser-Schuurman, W.E.S.L., Het kruisherenklooster (Maastricht 1984), 24
Nispen tot Sevenaer, E. van, De monumenten van geschiedenis van kunst V. De provincie Limburg. Eerste stuk: gemeente Maastricht, tweede aflevering ('s-Gravenhage 1930), 252; no. 3

Other documentation
The slab is not included in the databases of the RCE and SKKN
Additional remarks
Additional remarks
Tomb or floor slab (front) of [2213] Floor slab of Vaes Nuellens, Elysabet Nuellens and her offspring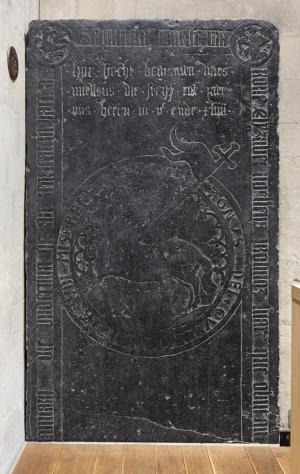 Indication of part
Indication of part
Tomb or floor slab (front)
Short description
Short description
Stone slab with a centrally placed medallion in which the Agnus Dei (Lamb of God) and a circular inscription, an inscription above, an inscription along the edge and medallions with the evangelist symbols in the corners
Dimensions (cm)
Height x Width x Depth
200 x 110 x 0
Date
Year
1510
Specified date
1510/01/11
Argumentation

date of death given on the object

Specification
date of death of Elysabet Nuellens, the earliest date mentioned on the slab
Additional remarks
Holding institution
Holding institution
Maastricht, Kruisherenhotel (former monastery of Crutched Friars)
Collection
Collection identifier
Online description link
Alternative or previous collections
Alternative of previous identifiers
Accessibility
Remarks about holding institution
The slab is located in the lobby of the hotel, against a wall
Contract
Contract
Artist(s)
Filiation
Filiation
The slab is stylistically related to 'Floor slab of Joris Alardtz., his wife Maria, and Hedwig von Vucht', MeMO Memorial Object ID 2228, also in the Kruisherenhotel in Maastricht
Additional remarks
Additional remarks
Inscriptions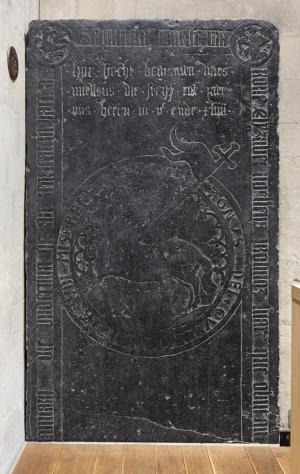 Indication of part
Indication of part
Tomb or floor slab (front)
Place of the inscription
Place of the inscription
in the upper section of the slab
Language(s)
Languages
Language specification
Transcription
Transcription
Hyr liecht begraven Vaes Nuellens die sterff int jaer ons Heren M Vc ende XLIIII.
Translation
English translation
Here lies buried Vaes Nuellens who died in the year of Our Lord 1500 and 44.
Dutch translation
Hier ligt begraven Vaes Nuellens die stierf in het jaar ons Heren 1500 en 44.
Lay–out
Lay-out
Gothic textualis
Inscription mentioning
Name
[4501] Vaes Nuellens (male)
Sex
male
Argumentation
the person is being commemorated
Additional remarks
Additional remarks
Indication of part
Indication of part
Tomb or floor slab (front)
Place of the inscription
Place of the inscription
along all four edges of the slab
Language(s)
Languages
Language specification
Transcription
Transcription
Sepultura honeste matrone Elysabet Nuellens proliumque suarum, que obiit anno Domini XVc decimo mensis Ianuarii die undecima, quarum anime requiescant in pace. Amen.
Translation
English translation
Grave of honourable matron Elysabet Nuellens and her offspring, who died in the year of the Lord 1510 on the 11th day of the month of January, whose souls may rest in peace. Amen.
Dutch translation
Graf van eerbare matrone Elysabet Nuellens en haar nakomelingen, die stierf in het jaar des Heren 1510 op de 11de dag van de maand januari, wier zielen in vrede mogen rusten. Amen.
Lay–out
Lay-out
Gothic textualis
Inscription mentioning
Name
[4500] Elysabet Nuellens (female)
Sex
female
Argumentation
the person is being commemorated
Additional remarks
Additional remarks
Elysabet was probably a married woman, as can be gathered from the word 'matrone'
Indication of part
Indication of part
Tomb or floor slab (front)
Place of the inscription
Place of the inscription
in a central medallion (circular inscription)
Language(s)
Languages
Language specification
Transcription
Transcription
Agnus Dei, qui tollis peccata mundi, miserere nobis.
Translation
English translation
Lamb of God, who takes away the sins of the world, have mercy on us.
Dutch translation
Lam Gods, dat de zonden van de wereld wegneemt, ontferm u over ons.
Lay–out
Lay-out
Roman majuscules
Inscription mentioning
Additional remarks
Additional remarks
From the Ordinarium Missae, based on John 1:29.
Decorations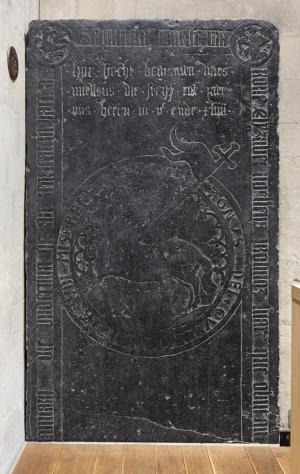 Indication of part
Indication of the part
Tomb or floor slab (front)
Type(s) of decoration(s)
Type(s) of decoration(s)

religious representations
evangelist symbols

Description of the decoration(s)
Description of the decoration(s)
Agnus Dei (Lamb of God); quatrefoils with evangelist symbols
Depicted allegories
Depicted allegories
Additional remarks
Additional remarks
Person Description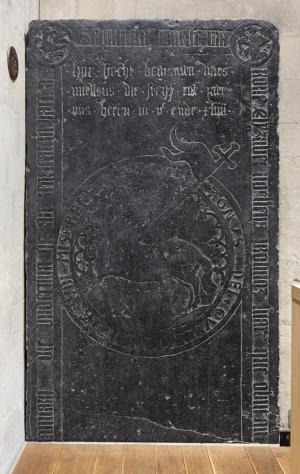 Personal identification number
Personal identification number
4500
Personal details
Name
Elysabet Nuellens
Sex
female
Year/date of birth
Year/date of death
1510/01/11
Additional remarks
Matron
Social standing
Status
Arguments
Specification
Member of a convent
Religious order
Specification
Member of secular clergy
Type of secular clergy
Specification
Additional remarks
Additional remarks
Personal identification number
Personal identification number
4501
Personal details
Name
Vaes Nuellens
Sex
male
Year/date of birth
Year/date of death
1544
Additional remarks
His first name was probably Servaes or Servatius. The same person as Servatius Noellens?
Social standing
Status
Arguments
Specification
Member of a convent
Religious order
Specification
Member of secular clergy
Type of secular clergy
Specification
Additional remarks
Additional remarks