Description - Memorial Object
Floor slab of Geraert van der Marck and Kathryn van der Borch, and Arnt Proenen and Mari Paris (fragment(s))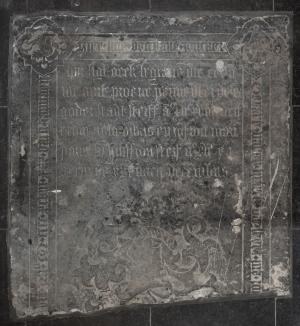 MeMO memorial object ID and name
MeMO memorial object ID
2224
Name
Floor slab of Geraert van der Marck and Kathryn van der Borch, and Arnt Proenen and Mari Paris (fragment(s))
Holding institution(s)
Holding institution(s)

Maastricht, Kruisherenhotel (former monastery of Crutched Friars)

Category
Type
Tomb monument, tomb slab or floor slab (physical object)
Classification
Tomb slab or floor slab
Short description
Fragment of a stone slab with a crest, an inscription above, an inscription along the edge and quatrefoils with evangelist symbols in the upper corners
Remarks about category
General date
General date
1450-1500
Artist(s)
Artist(s)
Original institution(s)

Original institution
[367] Kruisheren (Monastery of Crutched friars), Maastricht
Arguments

based on research (literature, archival or archaeological research)
the memorial object is still in the original institution

Specification
Arnt Proenen is mentioned in the necrology of the monastery, and Geraert van der Marck and his wife Kathryn probably as well

Still in original institution?
yes

Location inside the institution
In situ?
no
(Probable) original location
Argumentation
Related memorial objects in the same institution
Additional remarks (original location)

Additional remarks

Memorial piece
Function
Specification
Additional remarks
Memorial monument or floor slab
Function
liturgical/religious; no information on possible other functions
Grave findings
Additional remarks
No information is available about possible other functions, because the object is too damaged or no photograph is available

Original function
Change in function
Remarks about function
Name
Geraert van der Marck and Kathryn va der Borch, and Arnt Proenen and Mari Paris
Specification

Members of the commemorated party
Commemorated person(s)

[4519] Geraert van der Marck (Gerard van der Marck) (male)
[4521] Arnt Proenen (Arnold Proenen the Younger) (male)
[4520] Kathryn va der Borch (Katrijn van der Borch) (female)
[4522] Mari Paris (Marie Paris) (female)

Commemorated institution(s)

Relation between commemorated persons
relation (type of relation unknown)
Relation specification
two married couples; the relation between the couples is unknown
Additional remarks
Name
Composition of the commissioning party
Specification

Members of the commissioning party
Commissioning person(s)
Commissioning Institution(s)

Relation between commissioning party and commemorated party
Relation specification
Additional remarks
Material(s)
Specification
blue limestone
Traces of polychromy?
Reuse of older objects

Dimensions (cm)
Height x width x depth
146 x 134 x 0

Completeness
Incomplete: a fragment (upper half of the original slab)
Condition
The fragment is worn and damaged
Conservation
Technical research
Specification (technical research)

Alterations
Alterations
Specification

Additional remarks
Von Geusau (1894) - who apparently saw the slab when it was still complete - provides us with the inscriptions and measurements (265 x 140 cm.) of the original slab
Provenance
Provenance
Marks of ownership
Type(s) of mark(s) of ownership
Specification

Belonje, J., Genealogische en heraldische gedenkwaardigheden in en uit de kerken der provincie Limburg, Publications de la Société Historique et Archéologique dans le Limbourg 96-97 (1960), , 172; no. 1
Geusau, Baron von, Korte geschiedenis der kloosters te Maastricht, Publications de la Société Historique et Archéologique dans le Limbourg 31 (1894),
Nispen tot Sevenaer, E. van, De monumenten van geschiedenis van kunst V. De provincie Limburg. Eerste stuk: gemeente Maastricht, tweede aflevering ('s-Gravenhage 1930), 252; no. 1

Other documentation
The fragment is not included in the databases of the RCE and SKKN
Additional remarks
Additional remarks
The necrology of the monastery of Crutched Friars in Maastricht mentions the 'anniversarium domicelli' of a Gerardi de Marcka, his wife Kathrijn, their son Gerard and her sister Maria on October 19. Arnt Proenen was commemorated by the Crutched Friars on the first day of each month.
Tomb or floor slab (front) of [2224] Floor slab of Geraert van der Marck and Kathryn van der Borch, and Arnt Proenen and Mari Paris (fragment(s))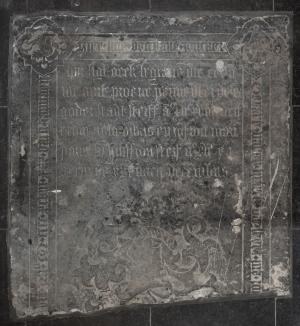 Indication of part
Indication of part
Tomb or floor slab (front)
Short description
Short description
Fragment of a stone slab with a crest, an inscription above, an inscription along the edge and quatrefoils with evangelist symbols in the upper corners
Dimensions (cm)
Height x Width x Depth
146 x 134 x 0
Date
Year
1482
Specified date
1482/10/25
Argumentation

date of death given on the object

Specification
date of death of Geraert van der Marck, the earliest date mentioned on the original slab
Additional remarks
Holding institution
Holding institution
Maastricht, Kruisherenhotel (former monastery of Crutched Friars)
Collection
Collection identifier
Online description link
Alternative or previous collections
Alternative of previous identifiers
Accessibility
Remarks about holding institution
The fragment is located in the south aisle, under a rug
Contract
Contract
Artist(s)
Filiation
Filiation
Additional remarks
Additional remarks
Heraldry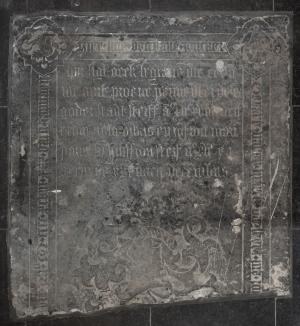 Indication of part
Indication of part
Tomb or floor slab (front)
Place of heraldry
Place of heraldry
bottom section of the fragment
Specification of heraldry
Type of heraldry
Specification
Shape of the shield
Specification
Description of the shield
Shield is missing - (Schild is afwezig)
Description of the upper arms (helmet, crest and mantling)
Crest present - (Helmteken aanwezig)
Remarks
Additional parts of the achievement
Type of supporter
Specification
Motto
English translation of the motto
Insignia or attributes
Heraldry belonging to
Heraldry belonging to
Additional remarks
Additional remarks
Inscriptions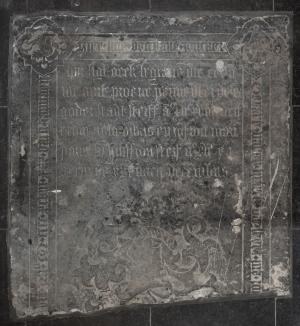 Indication of part
Indication of part
Tomb or floor slab (front)
Place of the inscription
Place of the inscription
along all four edges of the slab originally
Language(s)
Languages
Language specification
Transcription
Transcription
Hier ligt begraven Joncker Geraert van der Marck die sterft int jo[ir MCCCCLXXXII XXV dach Octobris ende syn huysvrou Joffer Kathryn va der Borch die ste]rff Anno M CCCC XCVIII XXX dach January.
Translation
English translation
Here lies buried squire Gerard van der Marck who died in the year 1482, the 25th day of October, and his wife mistress Katrijn van der Borch who died in the year 1498, the 30th day of January.
Dutch translation
Hier ligt begraven jonker Gerard van der Marck die stierf in het jaar 1482, de 25ste dag van oktober, en zijn vrouw juffer Katrijn van der Borch die stierf in het jaar 1498, de 30ste dag van januari.
Lay–out
Lay-out
Gothic textualis
Inscription mentioning
Name
[4520] Kathryn va der Borch (Katrijn van der Borch) (female)
Sex
female
Argumentation
the person is being commemorated
Name
[4519] Geraert van der Marck (Gerard van der Marck) (male)
Sex
male
Argumentation
the person is being commemorated
Additional remarks
Additional remarks
• The fragment shows an inscription along the top, right and left edges of the slab. • The bracketed text is currently missing: taken from the transcription of Von Geusau (1894)
Indication of part
Indication of part
Tomb or floor slab (front)
Place of the inscription
Place of the inscription
in the top section of the fragment, above the crest
Language(s)
Languages
Language specification
Transcription
Transcription
Hyr ligt oeck begraven die eersame Arnt Proenen, Peimeister deser goder stadt sterff anno XVc XVIII den XXVIII Novembris ende Jonfrou Mari Paris syn huisfrou sterff Anno XVc en XXXVI de XXI dach Decembris.
Translation
English translation
Here also lies buried the honourable Arnold Proenen, paymaster of this good city, died in the year 1518 on November 28 and lady Marie Paris his wife died in the year 1536, the 21st day of December.
Dutch translation
Hier ligt ook begraven de eerzame Arnold Proenen, betaalmeester van deze goede stad, stierf in het jaar 1518 op 28 november en jonkvrouw Marie Paris zijn vrouw stierf in het jaar 1536, de 21ste dag van december.
Lay–out
Lay-out
Gothic textualis
Inscription mentioning
Name
[4521] Arnt Proenen (Arnold Proenen the Younger) (male)
Sex
male
Argumentation
the person is being commemorated
Name
[4522] Mari Paris (Marie Paris) (female)
Sex
female
Argumentation
the person is being commemorated
Additional remarks
Additional remarks
Decorations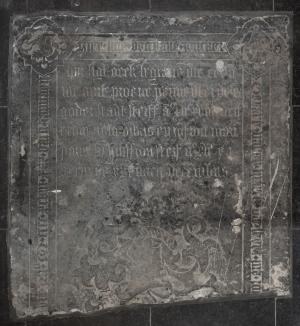 Indication of part
Indication of the part
Tomb or floor slab (front)
Type(s) of decoration(s)
Type(s) of decoration(s)
Description of the decoration(s)
Description of the decoration(s)
two quatrefoils with evangelist symbols
Depicted allegories
Depicted allegories
Additional remarks
Additional remarks
Person Description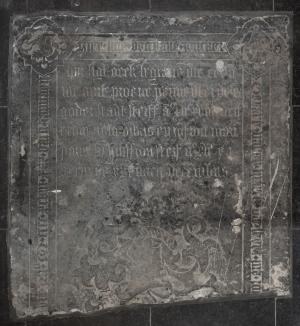 Personal identification number
Personal identification number
4519
Personal details
Name
Geraert van der Marck (Gerard van der Marck)
Sex
male
Year/date of birth
Year/date of death
1482/10/25
Additional remarks
Husband of Katrijn van der Borch. The necrology of the convent of Crutched Friars in Maastricht mentions the 'anniversarium domicelli' of a Gerardi de Marcka, his wife Kathrijn, their son Gerard and her sister Maria on October 19.
Social standing
Status
nobility
Arguments

mentioned in the inscription

Specification
squire ('jonker')
Member of a convent
Religious order
Specification
Member of secular clergy
Type of secular clergy
Specification
Additional remarks
Additional remarks
Personal identification number
Personal identification number
4520
Personal details
Name
Kathryn va der Borch (Katrijn van der Borch)
Sex
female
Year/date of birth
Year/date of death
1498/01/30
Additional remarks
Wife of Geraert (Gerard) van der Marck. The necrology of the convent of Crutched Friars in Maastricht mentions the 'anniversarium domicelli' of a Gerardi de Marcka, his wife Kathrijn, their son Gerard and her sister Maria on October 19.
Social standing
Status
Arguments
Specification
Member of a convent
Religious order
Specification
Member of secular clergy
Type of secular clergy
Specification
Additional remarks
Additional remarks
Personal identification number
Personal identification number
4521
Personal details
Name
Arnt Proenen (Arnold Proenen the Younger)
Sex
male
Year/date of birth
Year/date of death
1518/11/28
Additional remarks
The Proenen (Prunen/Pruynen) family was much respected in Maastricht. Son of Arnold Proenen the Elder, mayor of Maastricht, and Mathilde de Cuper. Arnt was married to Marie Paris and father of Theobald Proenen. In 1459, he donated money to the convent of Crutched Friars in Maastricht for the roof and tower of the convent church, and to buy land. Arnt was commemorated on the first day of each month in the convent church of the Crutched Friars, according to the necrology of this institution.
Social standing
Status
citizen of city
Arguments

mentioned in the inscription

Specification
paymaster of the city of Maastricht
Member of a convent
Religious order
Specification
Member of secular clergy
Type of secular clergy
Specification
Additional remarks
Additional remarks
Personal identification number
Personal identification number
4522
Personal details
Name
Mari Paris (Marie Paris)
Sex
female
Year/date of birth
Year/date of death
1536/12/21
Additional remarks
Wife of Arnt (Arnold) Proenen, mother of Theobald Proenen.
Social standing
Status
Arguments
Specification
Member of a convent
Religious order
Specification
Member of secular clergy
Type of secular clergy
Specification
Additional remarks
Additional remarks